February was not kind to large cap active managers. Nor has the year-to-date period been.
According to Savita Subramanian of the Bank of America Equity and Quant Strategy team, "Just 27% of large cap fund managers outperformed the Russell 1000 in February, down from 34% in January and the worst outperformance hit rate in nearly two years. The average fund returned -0.7% vs. 0.0% for the benchmark."
BAML cites the high correlations of the period along with the low dispersion between the various sectors' winners and losers as the primary culprits.
One other factor would be the sector overweights and underweights, which the crowd seems to have gotten wrong so far in 2016. Large cap managers piled into the banks at year-end 2015 thinking the Fed would continue to hike. As doubts about the economy (along with the collapse of the yield curve) became manifest, the bank stocks (and related financial names) got killed.
In the last quarter, large cap managers had been adding to energy stocks and lowering their exposure to another laggard group, health care. They're sticking with the banks too, it appears.
Below is Savita's chart, depicting the percentage of managers over- and underweight each sector with a comparison to where they were during Q3. It also shows the degree to which managers were over or under the benchmark weightings: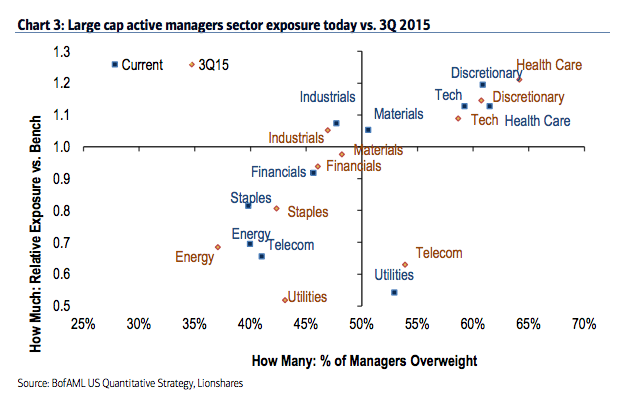 Source:
Worst outperformance hit rate for large-cap funds in nearly two years
Bank of America Merrill Lynch – March 2nd, 2016