We're in a frustrating period for stock returns at the moment. Last year the S&P 500 made no progress and this year, it's down 5% or so seven weeks in. It could get worse.
One of the ways I like to think of periods like these is to picture a coiled spring. We don't know how much further the spring will be pushed down, or for how long the market gods will press down on it with their thumb. But, with history as guide, we can say confidently that when the spring is released, all will be forgiven.
Jeff Saut at Raymond James includes a table in his morning note that is worth considering for frustrated investors who feel as though their portfolios are running in place…
And finally, I'll leave with you with some perspective on remaining focused on the long-term and not panicking whenever we hit one of these rough patches. Going back to 1927, the average price return (no dividends considered) of the S&P 500 has been 7.44% over the course of one year. However, as you extend your time horizon, the returns keep getting better and better, with average 5, 10, 20, and 30 year price returns of 41.52%, 103.34%, 349.77%, and 722.08%, respectively. And the likelihood of being right goes up as well, considering only 67% of one-year returns have been positive since 1927, but 74% of 5-year returns, 85% of 10-year returns, 96% of 20-year returns, and 100% of 30-year returns have been positive.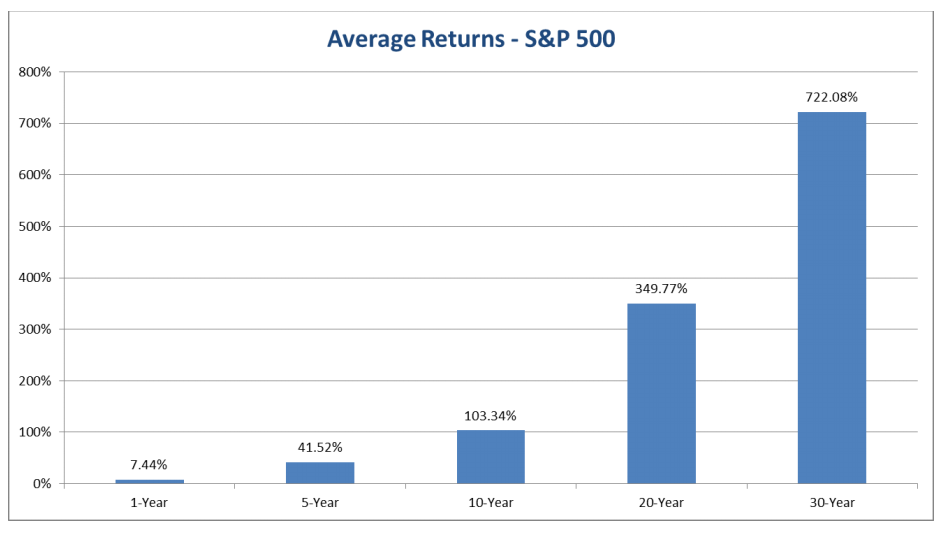 Josh here – in the words of Winston Churchill, "Never, never give up."
Source:
Charts of the Week
Raymond James – February 24th, 2016
Read Also: