UBS strategists explain a thesis wherein the most crowded trades, mainly engendered by global stimulus / ZIRP are now unwinding, with opportunity for those who want to bet on a continued leak.
To spot areas that are potentially bubbly, the quant team goes to the data. Here's what they've found to be highly crowded trades:
UBS' quantitative equity research team cites unprecedented capital market conditions, quantitative easing and divergence in monetary policies which have led to large flows of cheap money into equity markets globally as a reason that thematic investment bubbles have inflated, increasing the prevalence and risk of crowding – a global "herd mentality" to trade positioning.

With fundamental input from UBS' regional strategists, the quant team introduces its "toolkit" for gauging the barometric pressure of developing investment bubbles (in both overweight and underweight themes) using institutional holdings, return correlations within peer groups and sell-side sentiment. The results identify a number of potential global equity market bubbles (Figure 2).
and the chart, as always you may click to embiggen: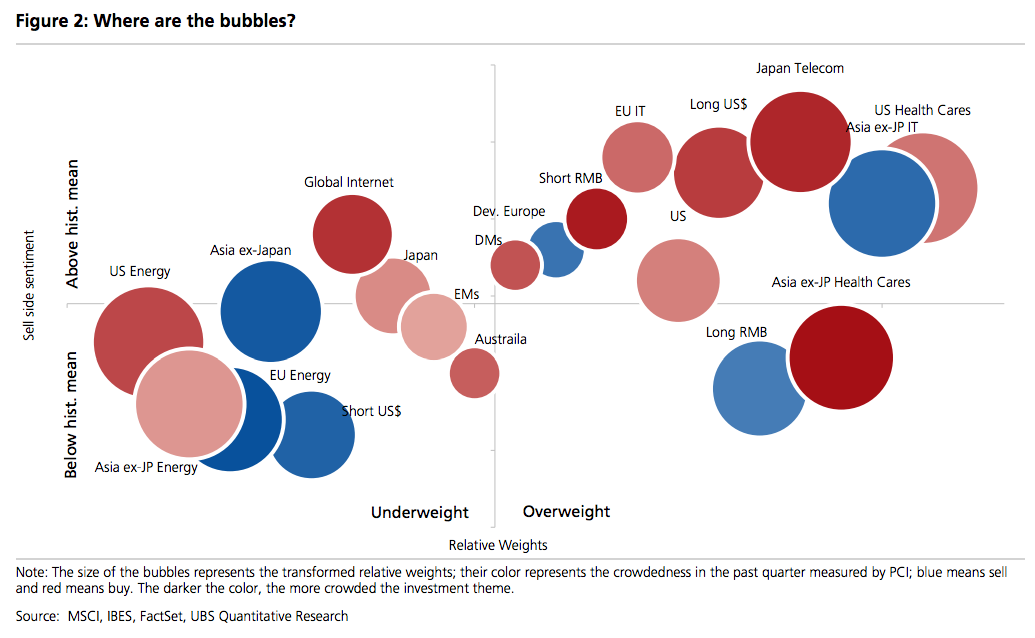 Josh here – UBS says long US dollar and US healthcare stocks are the bubbles most crying out for some mean reversion owing to their present popularity and consensus love.
Anecdotally, I can tell you that The Street is now filled with new health care-focused hedge funds. Some of these are undoubtedly funded by investors who have mistaken a bull market for the brainy-ness of the PMs.
Source:
Are the Bubbles Popping?
UBS – February 23rd, 2016