State Street Global Advisors notes that gold has served as a useful hedge during major macro events that hit the stock market. In the chart below, they point out that during these events, it's often the leading asset class:
In five out of seven of the events captured in the chart below, gold ranked as either the best performing or second-best performing asset class. By delivering competitive returns during a number of historically challenging times in the market, gold has provided investors with a source of wealth preservation and a means of moderating the market's volatility.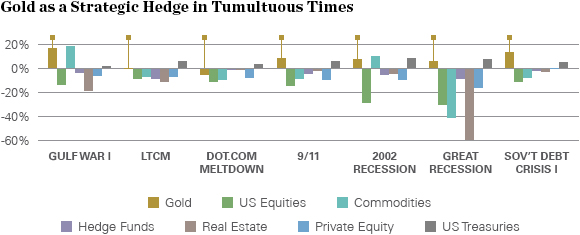 Sounds great, right?
But State Street – which, I should mention, is the sponsor of GLD (the world's largest gold fund) – leaves out an important detail: That other asset class in gray has been an even better hedge.
Oh, you didn't notice it?
Here: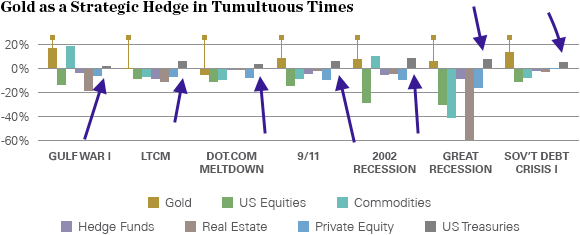 Yes, that gray bar that rises during all of these "crises" is US Treasury bonds.
State Street doesn't mention the fact that Treasurys are more stable than gold once the crisis passes, and, as such, make for a better permanent hedge or "safe asset" for the long-term. Gold is prone to massive boom and bust cycles like every commodity – especially now that State Street and other firms have financialized it into ETF or mutual fund form. Treasurys don't come off nearly as hard when a crisis passes.
The latest example would be gold's 40% peak-to-trough drop from August 2011 through the end of 2015.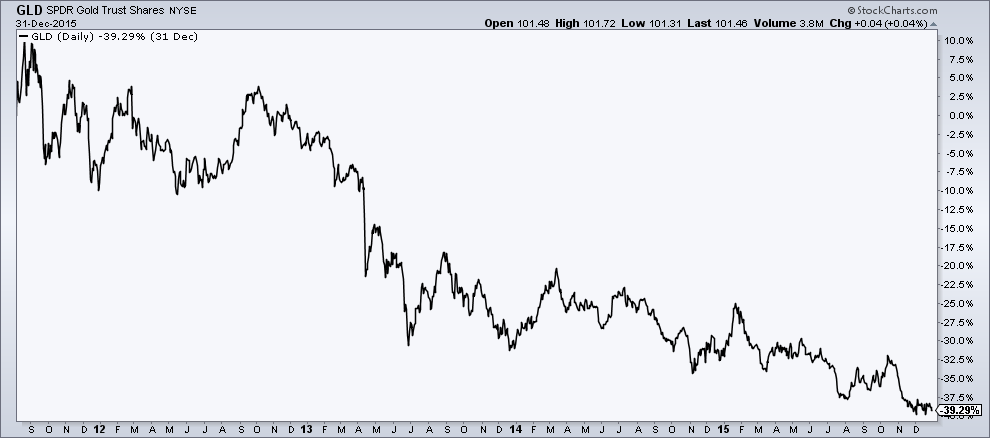 If your hedge needs a hedge, it's not an optimal hedge. We think investors can do better.