You could say that February was the month the bear market got real to a lot of people.
This is because over the last week or so, even the darlings weren't spared. What they did to the cloud stocks and CRM plays last week was unbelievable. The fact that even Facebook was taken down got the kneejerk dip-buyers to sit up and take notice.
Here's Jon Krinsky, technical analyst at MKM Partners, with an explanation of this phase of the market:
The S&P 500 Index (SPX – 1880.05) lost 3.1% last week, for its lowest weekly close since mid-2014. The brunt of the damage was in high growth "momentum" stocks that had been so strong last year. Consider that 36 stocks in the SPX lost 10% or more last week, and the average performance of those stocks in 2015 was +9.1%. Meanwhile, 33 stocks gained over 5% last week, and their average 2015 performance was -21.5%. Just like every army has its generals, every bull market has its leadership stocks. In our view, the difference between a bear market and a correction is not the peak-to-trough decline of the indices, but rather that in a bear market, even the best companies get hit hard. In other words, as the battle goes on, the army eventually loses its generals. Once the generals have been knocked out, then the army can attempt to regroup and stabilize itself. We don't think we are there yet, and while relief rallies can and will occur, we are more concerned with the primary downtrend than trying to catch a bounce.
His chart illustrating the generals being shot while the already-dead names attempt to bounce: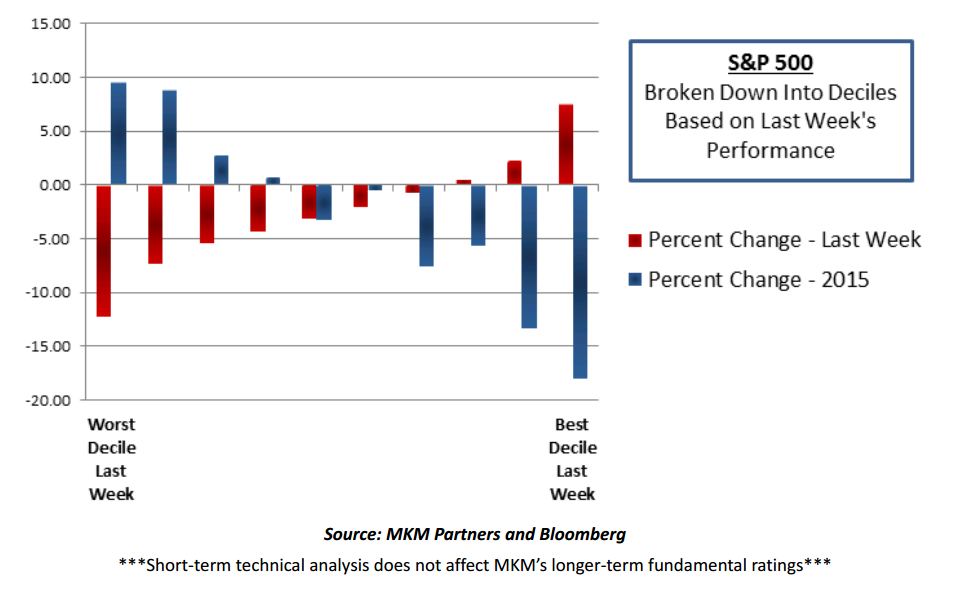 Source:
The Army Is Losing Its Generals 
MKM Partners – February 7th 2016