Today's MLP of the Day – Energy Transfer Partners LP, ticker symbol ETE. In a tersely-worded 8K, the company announced the replacement of their CFO. I don't know anything about the company, but the investors in the name are clearly shooting first here and getting the hell out of dodge. Shareholders in this and many other MLPS are now learning an abject lesson in portfolio construction and the true nature of risk-reward tradeoffs in fixed income.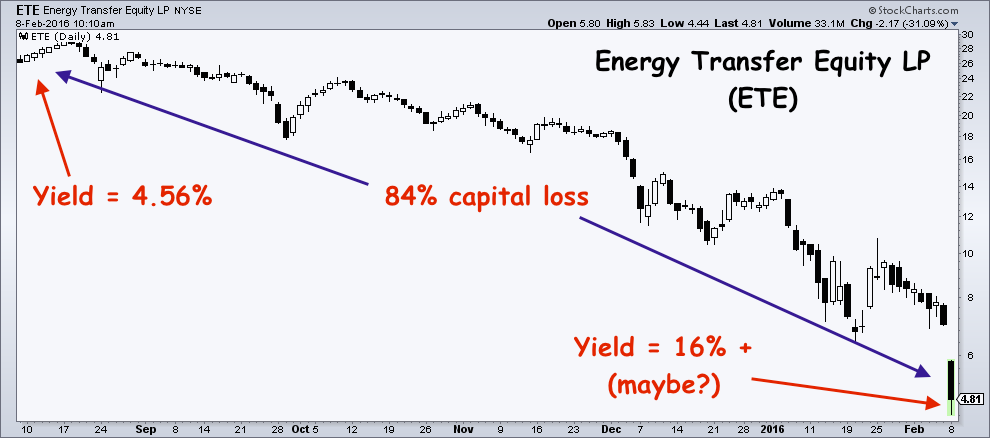 For a 4.5% income stream in ETE during the salad days of MLPs, investors endured almost complete wipeout of their principal.
We're seeing portfolios come in to us lately loaded with securities that carried high yields at the time of purchase, but that also carried extreme risk – a foreign concept during the QE years when anything could be financed and refinanced at will.
The pros knew not to construct income portfolios laden with "bond alternatives" or, at a minimum, to keep these holdings small and compartmentalized. The pretenders replaced the Treasury slots of their fixed income holdings with garbage so they could promise clients (and prospective clients) a current income higher than what the guy down the street was offering.
And now we separate the pros from the pretenders, as the potential risks become actual risks, and, in many cases, permanent losses.
If you're an advisor who won business over the last few years by out-delivering on current yield in your proposals, your time of reckoning has come. Because all fixed income must be looked at from a total return perspective, not merely quoted in terms of the trailing 12-month's dividend yield.
Read this if you haven't yet: