Savita Subramanian's Equity & Quant Strategy group at BAML looks at the earnings outlook trend for the S&P 500. On a monthly basis, the trend in downward revisions is the worst they've seen since March of 2009.
In January, the three-month earnings estimate revision ratio (ERR) fell for the fifth consecutive month to 0.49 from 0.53 — its lowest level in ten months. This remains below the long-term average of 0.84, and indicates twice as many cuts as increases to earnings estimates. The more volatile one-month ratio fell to 0.35 from 0.54, the worst since March 2009.
And before you jump up on your desk and scream "IT'S BECAUSE OF ENERGY!" you should keep in mind that estimates are being revised downward for all ten sectors over the last 3 months, not just oil companies: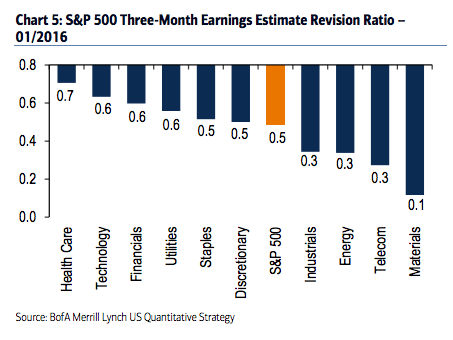 Josh here – Two ways to think about this – positively speaking, lowered estimates means an easier number for companies to beat when they report throughout 2016. Negatively speaking, if the downward revisions are met, and then capped off by even lower estimates and outlooks, the current multiple on the market is at risk, regardless of where interest rates are. According to Subramanian, more than twice as many companies have had earnings revised downward than revised upward for the 3 month period. As for full-year 2016, EPS guidance for the S&P 500 as a whole is already down 3% since the first day of the year.
Source:
The Cuts Get Deeper 
Bank of America Merrill Lynch – January 29th 2016