Meb Faber tweeted yesterday on the topic of country stock markets, as he follows them closely as part of his Global Value strategy…
For global stock markets, I count about half in bear markets already. About a third are 40% drawdowns (real local returns) Ten are 50%+

— Meb Faber (@MebFaber) January 4, 2016
In a 39-page report overnight, UBS technical analysts Michael Riesner and Marc Müller make the case that the global stock market is already in a bear market and that the few remaining soldiers still on their feet will eventually fall. These last few un-corrected markets – Japan, US large caps and European Small/Mid caps -may run on a bit further, but the seven-year cycle demands an end to the bull that began in 2009.
There's a lot of nuance to the call, of course, but the below introductory paragraph covers the basics. One thing I should mention – I read technical notes from all over The Street and from among my friends in the financial blogosphere every week. I can't remember the last time I read a bullish one. Virtually none of the technicians I follow believe that last year's 13% correction in the S&P 500 was the correction.
Here's the note (emphasis mine):
S&P-500 trades in 4th longest bull market since 1900 Bear markets are defined by a market decline of 20% and more. It's a fact that since its March 2009 low, with 82 months and a performance of 220%, the S&P-500 now trades in its 4th longest and 5th strongest bull market since 1900. So from this angle alone we suggest the 2009 bull cycle has reached a mature stage.

Having said that, if we look at equities globally the picture looks more diverse. Last year we said we think the May top in the MSCI World represents a major equity top. Our view is unchanged, and in this context it is important to understand and sort in the extent of last year's summer correction. In the MSCI World universe, we saw in 20 out of 48 markets a correction of 20% and more (DAX -25%), which is per definition bear market territory. The MSCI Emerging Market has been factually trading in a bear market since 2011 but from its May top alone the EM complex lost another 28% into its late August low!

Together with the 200-day moving averages rolling over in more and more markets globally, the break of the 2011 bull trend in the Russell-2000 and the equally weighted Valueline-100 index in the US, as well as intact sell signals in our monthly trend work, we can clearly say that globally, a bear market is already underway in more and more markets; whereas the S&P- 500 has just corrected 13% from its May top, and where into H1 2016 we can still see the large and mega cap driven S&P-500, Dow Jones Industrial and Nasdaq Composite to hit a new all-time high.
Josh here – UBS notes that the average cyclical bull market over the last century and change has ended with a 37% denouement for the Dow Jones Industrial Average: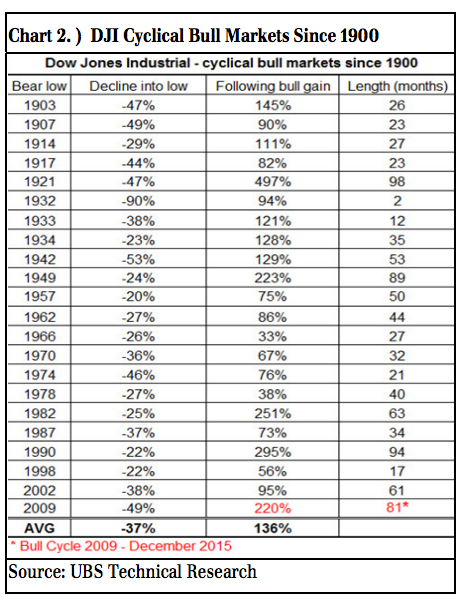 Source:
The 7-Year Cycle in Equities Is Rolling Over … Buy Gold!
UBS – January 5th 2016