If we're going to end up with a nice finish to the year, it's now or never.
The S&P 500 is down a percent from flat-on-year and a bit more from this spring's all-ime record high. The median stock, unfortunately, is down 15%, meaning the average is hiding lots of pain thanks to the strength in a failry narrow group of large cap growth names.
In my Chart O' the Day, Jon Krinsky, ace technician at MKM Partners, takes a look at a blended trendline for the back half of December going back 30 years. Krinsky notes that December usually looks a lot like it did this year – a tax-loss selling dip in the first half of the month, with a face-ripping rally into year end as investors seek to get ahead of the January Effect.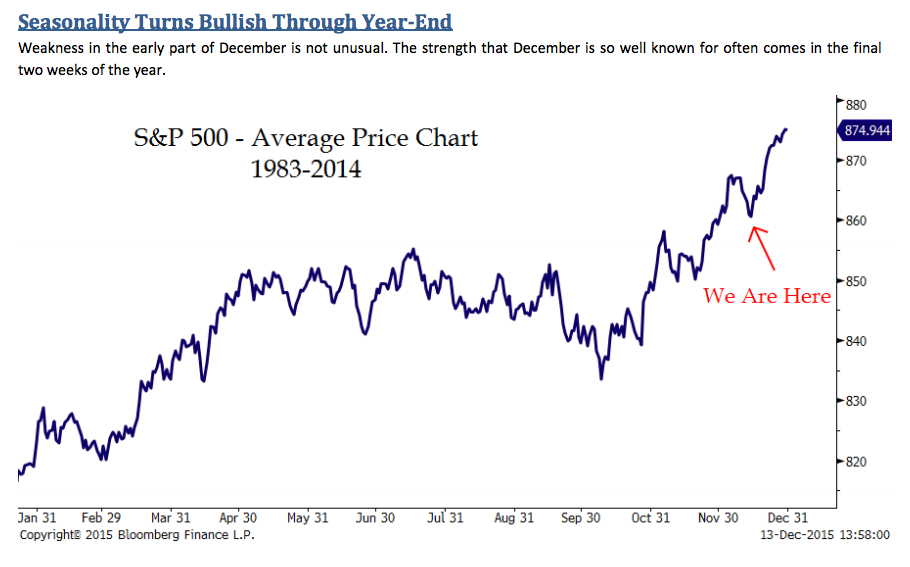 Will 2015 follow the script?
If so, today's long anticipated Fed statement could be the catalyst. If they're going to do it, do it now!
Source:
Short-Term Bounce Possible, But Bigger Picture Remains Bearish
MKM Partners – December 13th, 2015