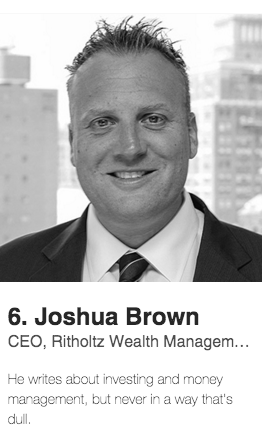 I was blown away to be named to this list of LinkedIn's top 90 voices of the year.
Every week, professionals from around the world publish over 150,000 posts on LinkedIn. Those posts cover everything from the narrow to the macro; some of the now nearly 2 million writers come once, others have carefully honed their voice.

So who should you read? And if you're a writer, who should you emulate?

We answer those questions today with the debut of LinkedIn Top Voices, our ranked list of the top 10 writers in eight different areas — finance, tech, marketing, healthcare, leadership, media, education, venture capital — who broke out from the crowd.
There are 10 of us in the finance category and it looks like I'm in good company. You can check that out here.
Thanks to the folks at LinkedIn who deemed me worthy. It's a big honor and I've heard from tons of folks this morning since the list came out. Much appreciated!
(and I definitely need a new headshot. what the hell was going on with my hair last summer?)