Okay, I admit it. I have Star Wars fever. You probably do too. It's inescapable. JJ Abrams was on Howard Stern this morning. Clips and trailers are hitting the web every few days. The toys are everywhere. People have bought over $50 million in tickets and we're still weeks away from the premiere. It's all happening.
This time the studio knows they have a guaranteed smash-hit on their hands. In 1976, a year before the film's release, there was no way they could have been as sure as they are now. Or could they have?
A just-unearthed memo from one studio head to another about the prospects for the first Star Wars film takes hyperbole to the next level. 20th Century Fox's vice-president of domestic distribution, Peter S. Myers, is practically jumping out of his skin to tell the rest of the film company about how big it was going to be. He can't believe the rough cut of the footage he's seen or the reports he's heard from people who had worked on the film. You can see the memo here, the enthusiasm is downright infectious.
And boy, was Myers right.
Which got me thinking about the question of "How do you know when you're onto something big?" Is it gut? Is it experience?
Something told me I was on to something a few years back when the blog was blowing up and my wealth management practice with my partner Barry Ritholtz was really starting to get traction. On January 1st 2012, I did a Star Wars-related post called Binary Sunset – about that awesome scene early in the film where Luke looks up at the twin setting suns above his home planet and he just knows his destiny lies somewhere beyond the horizon.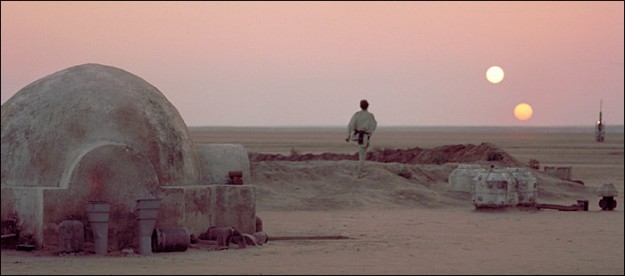 When I look back at it and read it today, I smile and say "Kid, you have no idea what adventures lie ahead." Of course, I say that to myself so people don't think I'm crazy.
Anyway, it's a fun look back at one of my earlier posts where I could just sense that I was onto something big. Hope you like it:
Binary Sunset (The Reformed Broker)