One of the great rules of thumb in the business world and beyond is that 80% of your business will come from the top 20% of your customers. Or, in some cases, 80% of your profits will come from 20% of your activities. Thus, we are told, to focus more of our attention on that crucial 20%.
In the US economy, there is a different sort of 80/20 rule going on right now. 80% of the economy is services-based while 20% is manufacturing. In this case, however, it is the 80% that is supplying all of the growth while the 20% holds us back.
Bank of America Merrill Lynch economist Hans Mikkelsen demonstrates the sharp divide between the booming services sector vs the depressed manufacturing sector – which is much more susceptible to global economic weakness…
A strong rebound in ISM Non-Manufacturing for October to 59.1 signals that the 3Q slowdown in the US economy was only temporary for the roughly 80% of total US activity that takes place in the service sector. Thus the pattern of a historically strong service sector even as manufacturing activity is borderline recessionary continues, with the wedge between the two parts of the US economy driven by global weakness.

Hence not surprisingly financial markets struggled when Janet Yellen a little later reiterated that the Fed could hike in December if the data is supportive. The market implied probability of December liftoff is now 58% according to Bloomberg, up from 50% yesterday and 33% before last week's FOMC meeting.
Josh here – doesn't get much more stark than this: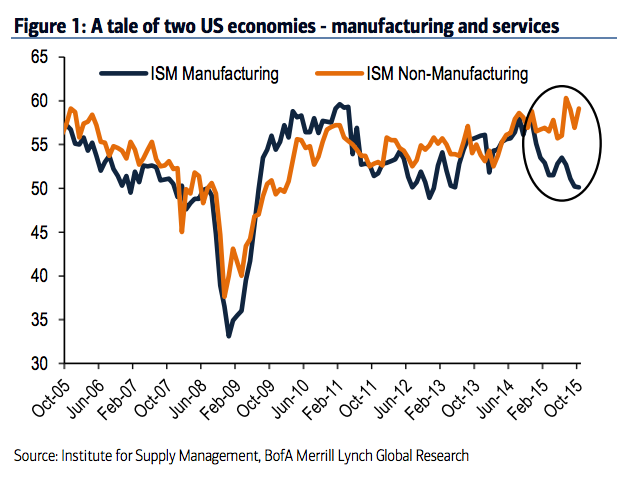 Source:
'Tis the season for liftoff
Bank of America Merrill Lynch – November 5th, 2015