October lived up to its reputation as a bear-killer this year, as the month's low happened on the first day and stocks spent the remaining 30 days screaming higher.
Even though we mostly know better, everyone still wants to know why.
Some point toward the record cash hoards built up by institutions, some say it was the massive short positions being unwound by performance-chasing hedge funds during September, some point to a sentiment shift from the Fed's standstill and others cite the not-so-bad tone of earnings season.
I'd say there's no single "reason" for the sudden burst of buying that drove an 8.5% gain for the S&P 500 in October. Sometimes a lot of things come together at once and there is no silver bullet gauge that allows you to call it in advance.
Below, my chart indicating the month-long rally for the S&P 500 in the top pane with the percentage of S&P 500 stocks above their 50-day moving averages in the bottom pane (a new year high, not too shabby).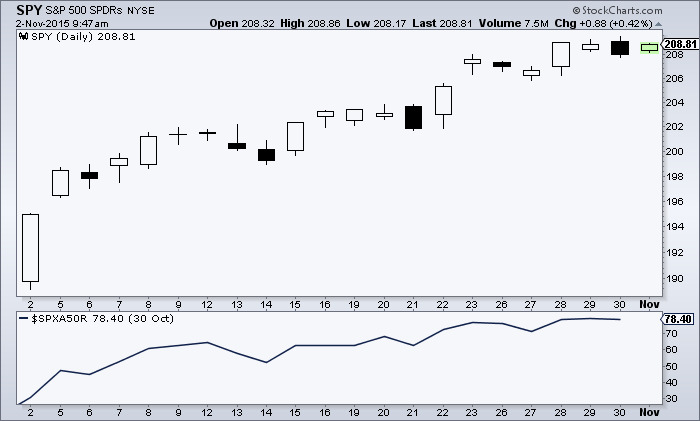 Eric Balchunas, who has the ETF beat for Bloomberg, tells us something remarkable about flows during the month:
U.S. Equity ETFs Brought in More Cash in October Than the Rest of the Year Combined

U.S. stock ETFs took in $10 billion, nearly double the $6 billion total they had attracted this year up until October. The flows were no doubt sparked by the Federal Reserve's decision not to raise interest rates in September which helped trigger a sizable 8.5 percent jump in the S&P 500 Index. Up until this point, the U.S. equity ETF market might be described as 'meh' compared to international developed markets such as Europe and Japan where central banks in full-blown quantitative easing-mode attracting ETF investors like moths to a light. In October, the opposite happened.
Josh here – Keep in mind that at the halfway point of October, flows were still negative for a lot of categories. That'll teach you to ignore weekly fund flow information or, at least, to discount its importance for the future performance of an asset class.
In addition to the massive inflow for stock ETFs, Eric tells us that the inflow readings for international stock ETFs and for junk bonds / investment grade corporate bonds were also extraordinary. Hell, even emerging market stock ETFs managed a positive take of over a billion dollars net, after more than 7 billion flowed out from January to September.
Bottom line: It was a very big month and it came out of nowhere, as these things often do.
Source:
Five Wild Stats from October ETF Flows (Bloomberg)