Peter Boockvar of the Lindsey Group parses today's FOMC statement and notices a few possibly meaningful differences that leave room for a 2015 hike:
In the 1st paragraph of the FOMC statement, the Fed referred to household spending and business fixed investment as "increasing at solid rates in recent months." Solid replaces "moderately" and I'm not sure why they changed the wording as while auto sales were "solid", retail sales and capital spending have not been. On the labor market they said "the pace of job gains slowed and the unemployment rate held steady." This replaces "the labor market continued to improve, with solid job gains and declining unemployment." This of course follows two months in a row of job gains less than 150k.

 Importantly of note, the Fed completely eliminated this statement from their September meeting: "Recent global economic and financial developments may restrain economic activity somewhat and are likely to put further downward pressure on inflation in the near term." Just like that, international developments have disappeared in their eyes (I'm exaggerating) but maybe that is in response to their belief that more QE from the ECB and further easing from China will help their economies. Dream on.

 We've heard from many Fed members that they want to raise rates by year end. Well, they've got one more chance and in the 3rd paragraph they are laying out the criteria AGAIN that must be met in order to follow thru with this hope: "In determining whether it will be appropriate to raise the target range at its next meeting, the Committee will assess progress, both realized and expected, toward its objectives of maximum employment and 2% inflation."
Josh here – the dollar rallied and stocks took off on the heels of this one. But that was already going to happen anyway 🙂
One major positive today was the rally in small caps. Russell 2000 (IWM) weakness was the latest thing to get stuck in everyone's craw. And poof – now it's all good.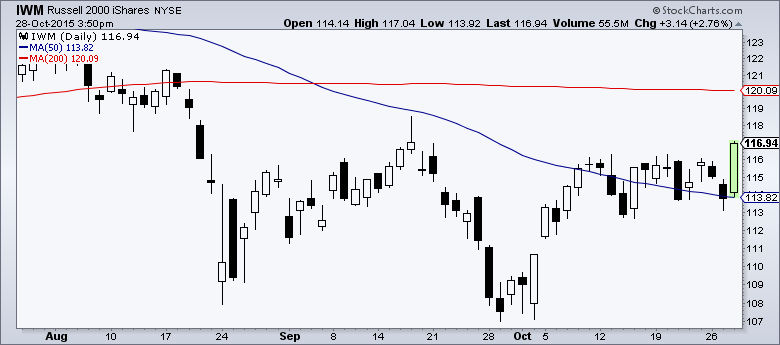 Source:
Peter Boockvar
Managing Director and Chief Market Analyst
The Lindsey Group LLC