During the last week of October, the Chinese will be rolling out and discussing their new Five Year Plan for the 2016-2020 period. This is the 13th FYP to be issued over the last 62 years.
Some intel on what to expect via Barclays:
The Five-Year Plan (FYP) was first introduced in China in 1953, an adoption of Soviet-type economic planning. It is now a blueprint about 100 pages long that details the government's main policy goals and development initiatives. It includes qualitative aims such as to "build a moderately prosperous society by 2020", as well as quantitative targets on economic, social, and environmental issues…

The 13th FYP (13FYP) covers the 2016-2020 period and is the first to be produced under President Xi's leadership. The draft 13FYP plan will be reviewed at the 5th plenary session of the 18th Communist Party Central Committee (CPCCC), which will take place over 26-29 October.

We believe growth, rebalancing, upgrading, liberalisation and the environment will be the major themes in the 13FYP as the country tries to achieve a development pattern of "higher quality, efficiency, equality and sustainability".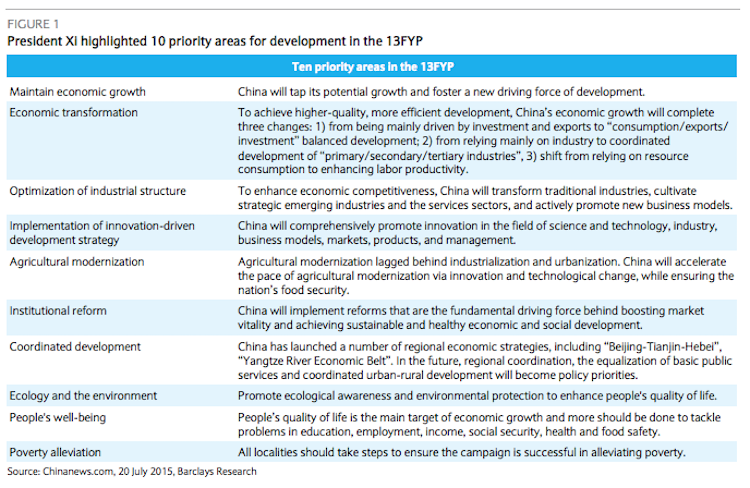 Analysts expect a continuation of economic / financial reforms to liberalize the country's markets as well as a new baseline growth expectation of 6.5% GDP growth, ratcheted down from the prior 7%.
Source:
The 13th Five Year Plan: The fight against gravity
Barclays – October 20th 2015