It's an old saw that Mr. Market exists in order to frustrate the maximum amount of people, most of the time. I think Ben Graham said that first, like 80 years ago. If confounding the crowd is his job, then Mr. Market should be getting a raise and a bonus for this year.
Let's think about what's going on right now:
Global GDP growth estimates are being ratcheted down.
Retail sales suck with a handful of exceptions. Wal-Mart just vomited all over us.
US corporate earnings are expected to post the first back-to-back quarterly decline since the recovery began.
The Fed is talking out of four sides of its mouth and is practically speaking in tongues at this point.
China's economy is so bad they're doing rain dances for a stimulus program.
Junk bonds are presaging a downturn in the business cycle while credit tightens.
The "good" kind of inflation simply refuses to show up, wages are going nowhere despite labor market tightness (OK, possibly turning).
All the macro notes this week are using the "R" word for the first time in eons.
Now watch as the S&P 500 laughs it off and races to within a few percent of record highs: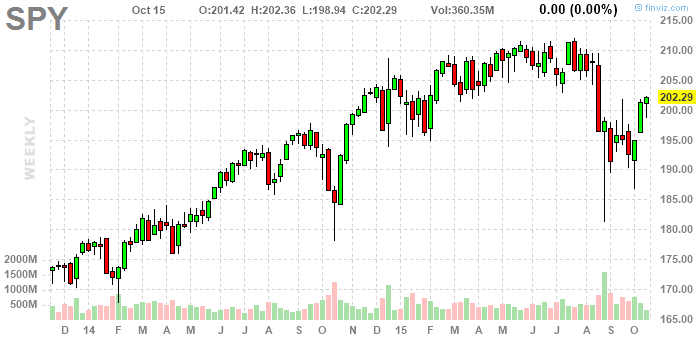 Nobody knows what the hell is going on. Is it panic buying? Is it technically driven by shortsellers? Does there have to be a single, wholly satisfying universal answer?
There rarely is, despite our inherent need for story.
In a widely shared research report from Credit Suisse strategist Andrew Garthwaite this morning, the degree of confusion among professional investors is illustrated:
Following meetings with clients in the U.S., Europe and Asia over the past few weeks, we make the following observations: Confusion: Never have we seen so many clients who just do not know what is happening and have cashed up … The wall of bearishness was extreme in the US – roughly 80 percent of meetings – but much more balanced outside the U.S. (maybe because markets started to rally in the meantime). Often in the U.S., the question was 'why isn't this a bear market?'.
The biggest daily moves since the August 24th correction began have taken place on the heels of worse than expected economic news. This is the kind of thing that is aggravating to anyone attempting to utilize common sense as part of their guesswork. We've seen it before and we'll see it again.
For the linear thinker, the stock market can be a torture chamber.