Here's the long-term view of the IBB, an ETF which serves as trader short-hand for the biotech industry group: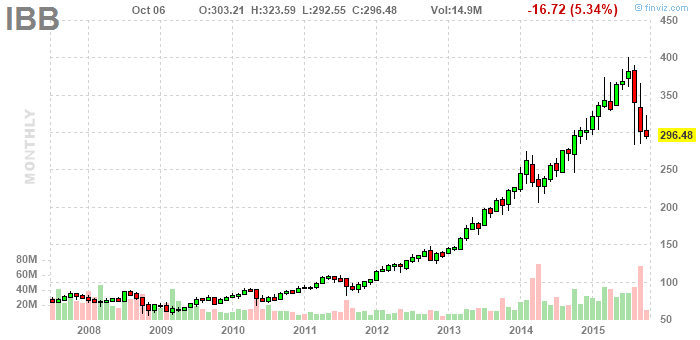 Biotechs have had a historic run from late 2011 into the middle of this year and are now in the process of giving back a big chunk of the gains. Unfortunately, the losses always happen much more quickly than the grind higher when a momentum trade goes bad.
This is because after something has run a lot, it always attracts the hottest, dumbest money in the market. Non-committal traders crowd in and then flee at the first sign that the easy money isn't rolling in like it had been. Margined players get blown our as true investors clutch the fundamental story to their chest like a rosary. They repeat a mantra of sorts under their breath as the selling intensifies, "it's cheap on next year's numbers, it's cheap on next year's numbers."
In the chart below, a look at the topping pattern and the weight of this winning sector, now that momentum has shifted to the sell side. You can see IBB running right back into the 50-day and then rolling back over again. You can also see a completed textbook head-and-shoulders pattern which is thought to be indicative of a major trend change.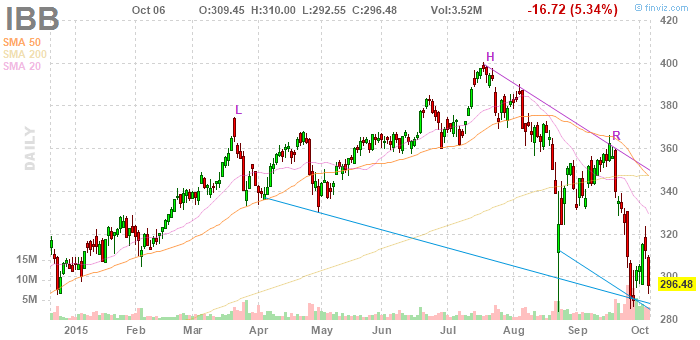 ALl the shorter-term moving averages are now downward sloping and could continue to act as resistance for short-term rallies. In the meanwhile, the 200-day has flattened, but it has not yet turned negative-sloping. A few months of sideways action could potentially save the IBB from forming a longer-term downtrend.
The rollover this week, coming on the heels of a spectacular broad-based rally for the total market, is a sentiment killer. Fundamentals are beside the point in the short-term, when the herd decides to leave town en masse.
The weight of winning is heavy when the winning streak is broken. All of those fair-weather fans who arrived late need to be cleaned up on the way down.