"Overhead Supply" is a term you may end up hearing a lot in the coming days and weeks. Basically, it refers to the potential amount of stock for sale as the market rallies back to a break-even point for investors.
When a stock or an index spends a lot of time in a given range, there are many longs whose purchases all coincide with that level. The S&P 500 has chopped around in a specific range just below all-time highs for almost 10 full months, therefore, this range has a significance to the many buyers as a place where they'd "get back to even" once we reach it. Because "price has memory", this is an area where there could be a lot of stock for sale, thus creating a resistance level barring the index from making a new high.
Jon Krinsky, MKM Partners' ace technician, illustrates this overhead supply area and explain's its potential importance for price action:
In our view, the biggest issue for the bulls is the overhead supply. The SPX can certainly rally from here, as initial resistance doesn't come in until 1993 (1-2% above current levels). Getting above that and there are another 40-50 handles of room to 2040 (3-4% above current levels). That area, however, is likely to represent formidable resistance as price spent over six months in that range. Meanwhile, the only clear support level on a downside break is the 1860-1867 area, which is nearly 5% lower. Therefore, we don't think chasing rallies will prove to be very rewarding over the coming weeks.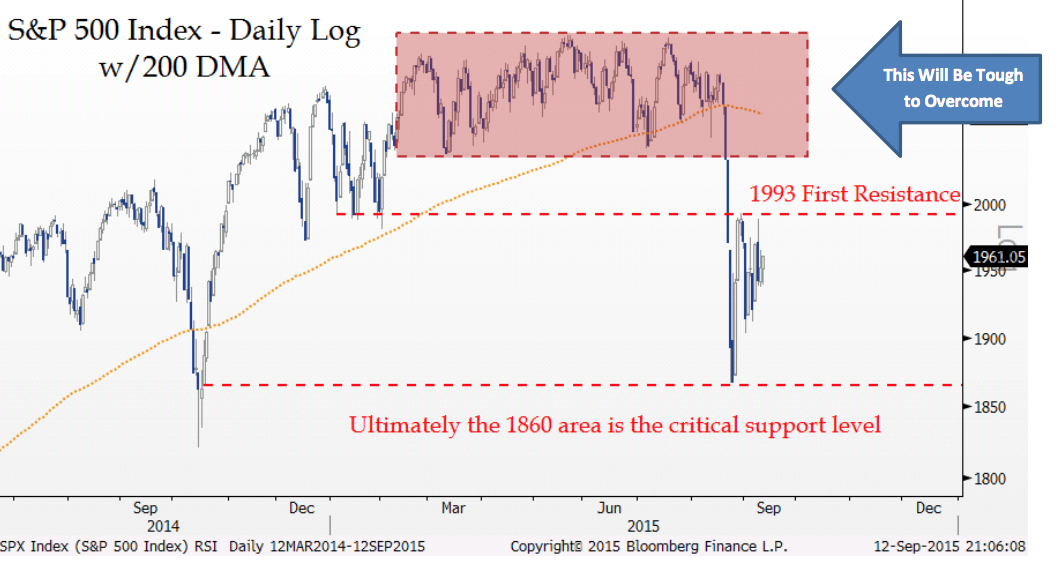 Jon notes that the median recovery time for new all-time highs after a 10% correction in the S&P 500 is 8 months. Of the 24 instances of standalone 10% corrections since 1960, it has taken the market an average of 12 months to make a new high. Thus, historically speaking, it would not be unusual to see 2015 go out without a fresh high for the major averages. Frustration may end up characterizing the the rest of the fall.
Source:
Don't Expect New Highs This Year
MKM Partners – September 13th 2015