Nicholas Colas, chief market strategist at Convergex, a global brokerage company based in New York, has this to say about the proliferation of "1%" days we've been experiencing in the stock market this year…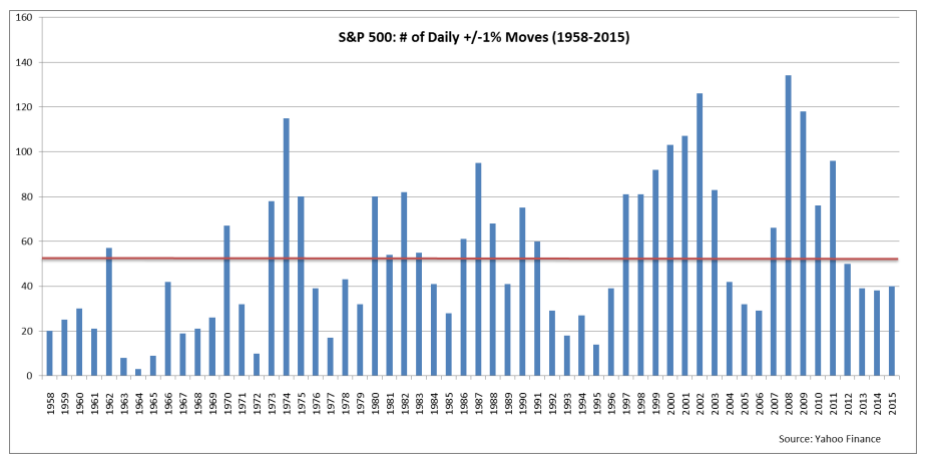 The surge in volatility over the past week enabled this year's aggregate number of plus or minus 1% moves in the S&P 500 – currently 40 – to exceed last year's total of 38. There were nineteen positive 1% or more days in 2014, and 19 negative days compared to 22 up days and 18 down days this year. We need 14 more 1% days in order to reach the annual average of 54 since 1958, representing only 16% of the next 86 trading days left in the year.

As we progress throughout the balance of 2015, we expect to encounter more of the volatility of the past week than the past few years. One percent or more days tend to pick up by the fifth or sixth year of bull markets such as the rallies of the 1980s, 1990s, and 2000s, and we are in our seventh.

Additionally, the VIX often hits its annual peak in October – for example last year – more so than any other month with a total of 5 since 1990. December may statistically register as the quietist month with 7 annual troughs over the past 25 years, but this year may prove different due to the uncertainty surrounding the Federal Reserve's timing of an interest rate hike.
Josh here – Last October, I felt that the Relentless Bid period that began in 2012 had finally come to an end (see: There She Goes, My Beautiful World). It appears as though I may have been correct. Stocks have made gains repeatedly from that moment, but they've given them back each time. Just buying anything and counting on the rising tide hasn't really helped investors at all in the last 10 months.
According to Nick, we're getting close to hitting the long-term average of annual 1% days with plenty of time to exceed it: "Getting back to the annual average of 53.6 dating back to 1958 requires 13.6 more days of plus or minus one percent moves, or 16% of the next 86 trading days of the year. Reaching the annual average of 61.5 since 1971 would take 21.5 more days, or a quarter of the trading days left in 2015."
Source:
Tell 'Em That It's Human Nature
CONVERGEX – August 28th 2015