At the request of so many investment advisors, my friends at Riskalyze share the big trends in the assets going into and coming out of advisor portfolios every week. The underlying data is aggregated from hundreds of thousands of client accounts across the $44 billion and counting that advisors manage on the Riskalyze platform*. I hope we can uncover interesting trends for you each week…

August 9th- August 15th
Winners (advisor flows TO these investments increased substantially):
First Trust Focus Five (FV)

First Eagle Global (SGIIX, SGENX)

Exxon (XOM)
Losers (advisor flows FROM these investments increased substantially):
High Yield (HYG, JNK)
Floating Rate (BKLN)
Intel (INTC)
Josh here – some rather interesting activity happening in advisor-driven portfolios over the last week.
The first thing worth pointing out is that the selling of junk bond and other risky fixed income ETFs continued steadily. Accounts holding JNK or HYG, the two preeminent high-yield bond ETFs saw a 7% drop in AUM across the hundreds of thousands of accounts in the Riskalyze data set. The floating rate loan ETF, which is always mentioned in articles warning investors about potential liquidity risk, was also blown of portfolios.
The other stuff that happened last week – somebody really believes in the Focus Five ETF, which is a sector rotation strategy based upon the well-respected research and management of Dorsey-Wright, the asset manager that has become synonymous with momentum-driven investing. I don't know a lot about this fund in particular but it's been around since early 2014. Its top (only) holdings are the sector ETFs from the fund's sponsor, First Trust, that seem to have had the best momentum coming into the month of August: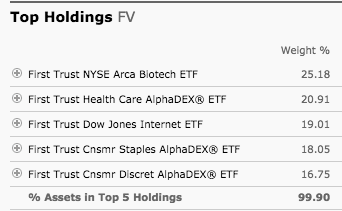 Riskalyze CIO Mike McDaniel tells me that "First Trust Focus Five showed an increase of 3% AUM week-over-week despite the fund dropping ~5.5% from the previous weeks close."
It's a tough time to be building an allocation to any momentum strategy; experienced advisors must manage client expectations in order to keep them buckled in for the next period of outperformance. Momentum, like every other strategy, has its days in the sun and its days in the shade.
*(to state the obvious, Riskalyze does not share client sensitive data with me or use animals in testing).