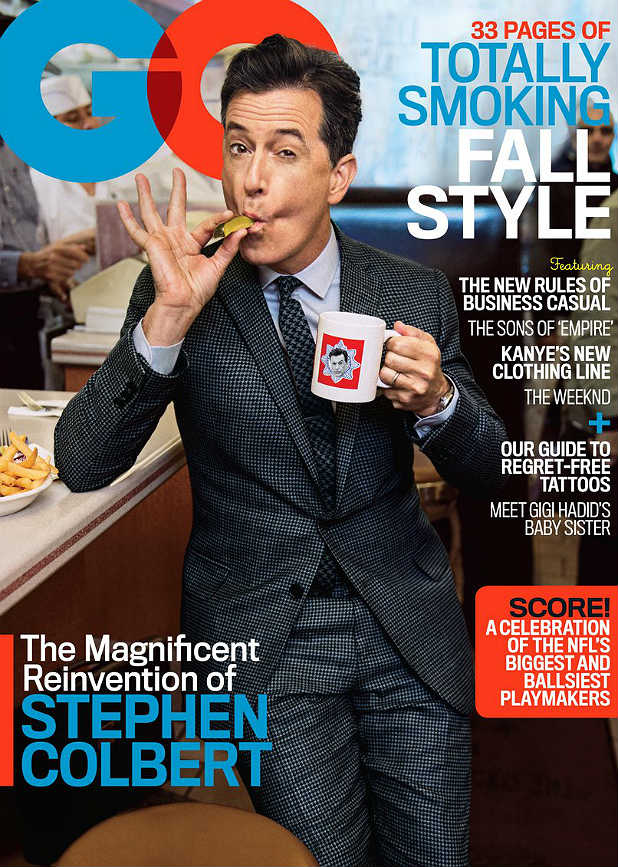 Stephen Colbert is gearing up for his new stand as the host of David Letterman's The Late Show on CBS this fall. It's double the length of the show he did for Comedy Central over the last nine years. It's also a lot more expensive to produce and will be viewed by a much larger, more mainstream audience.
In short, the stakes are much higher.
For the cover story of this month's GQ magazine, Colbert gets into the process of how he plans to accomplish this new challenge. There's a lot here that's applicable to building, organizing and managing a portfolio. To start with, there is the realization of the end goals of the show – to make people laugh, as well as the idea of having multiple ingredients all contribute to a given show's successful outcome…
Back at his office, Colbert delivered a soliloquy on the necessity of focus and intention, being fully present for whatever moment you are in. He was talking about comedy, and how to make a TV show 200 times a year, but it also felt like a text lifted from the Buddha's sutras. The final goal, the product, is beside the point. "The end product is jokes, but you could easily say the end product is intention. Having intentionality at all times… The process of process is process."

And then he talked about the Food Network show Chopped. The reason he loves Chopped is that it's a show that is wholly about process, about creation within a limited range of possibilities. "This show," he said, meaning The Late Show, "is Chopped. Late-night shows are Chopped. Who are your guests tonight? Your guests tonight are veal tongue, coffee grounds, and gummy bears. There, make a show.… Make an appetizer that appeals to millions of people. That's what I like. How could you possibly do it? Oh, you bring in your own flavors. Your own house band is another flavor. You have your own flavor. The audience itself is a base dish, like a rice pilaf or something. And then together it's 'Oh shit, that's an actual meal.' And that's what every day is like at one of these shows. Something is one thing in the morning, and then by the end of the day it's a totally different thing. It's all process."
Substitute "flavors" for asset classes or strategies and its not a stretch to draw some important parallels between good, well-prepared investing and running a late-night talk show.
Source:
The Late, Great Stephen Colbert (GQ)