Oppenheimer Asset Management's technician Ari Wald believes that we could be in for a correction within the context of a continuing bull market. His base case is that the leadership groups within the market (healthcare, financials, select tech) do not crumble even as the laggards in energy and materials drag the averages lower, temporarily.
That said, one of his charts this morning rings the same negative breadth bell you've been hearing from other technicians. Last night I shared an ominous chart documenting the recent surge in 52-week lows for S&P 500 stocks from BAML's Stephen Suttmeier. Ari is focused on "participation" in the uptrend among S&P 1500 names (includes small/mid caps) and compares the S&P 500 price index to the NYSE advance/decline line. You can see how the underlying stocks continue to fall off as the price trend flattens.
You can click to embiggen this bad boy: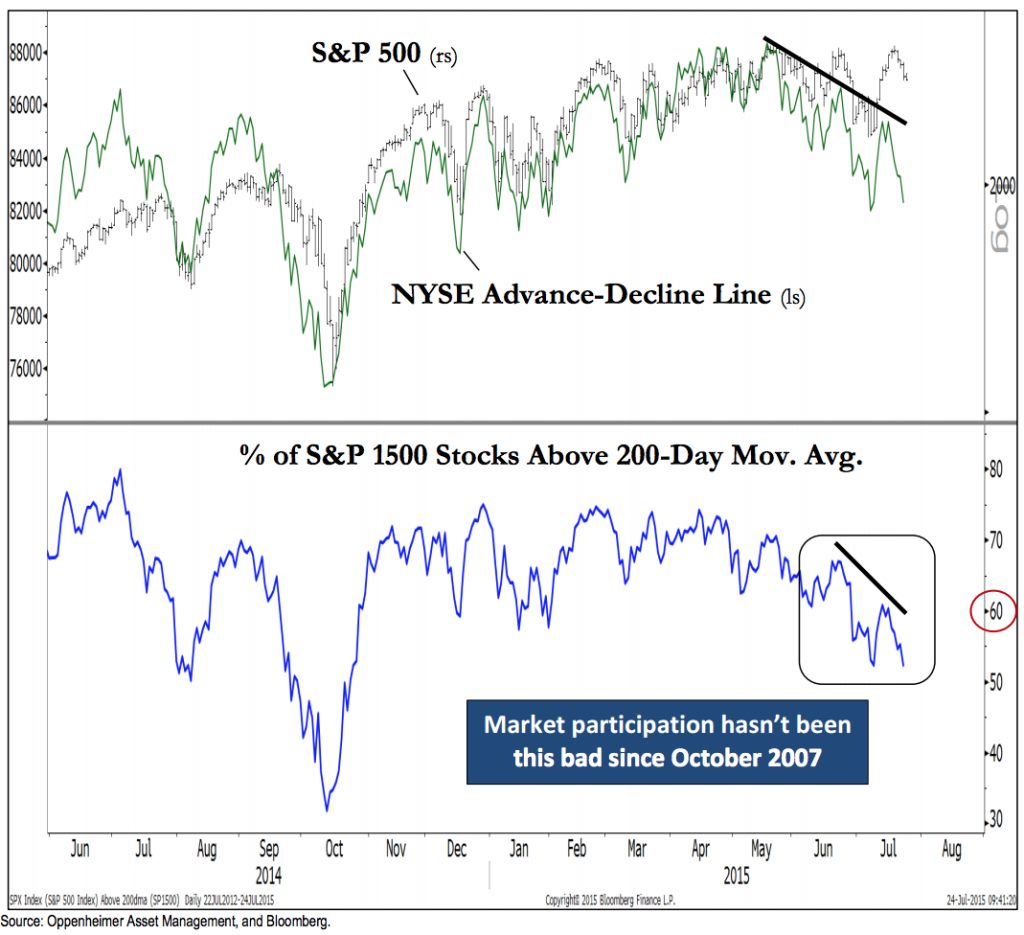 Josh here – some caveats before this stuff sends you into a panic:
As I've repeatedly pointed out, we've had several instances in the last few years where technical and breadth divergences ended up being resolved to the upside. If you bought at those moments since 2012 where we've had a spike in stocks below their 200-day moving averages, for example, you ended up buying the dip for the overall market pretty flawlessly.
And, as always, price is the most important indicator, regardless of what its derivative indicators (like internals) may have to say.
Source:
Technical Analysis: Inflection Points
Oppenheimer Asset Management – July 27th 2015
Read Also: