Michael Hartnett is out with his latest Fund Manager Survey for Bank of America Merrill Lynch and it's, well, something else.
According to the survey, conducted among 149 participants with $399 billion in AUM from July 2nd through July 9th, cash levels in fund manager survey (FMS) portfolios have hit 5.5%.
So does this mean everyone is bearish? It's not that simple.
Here's Hartnett & Co: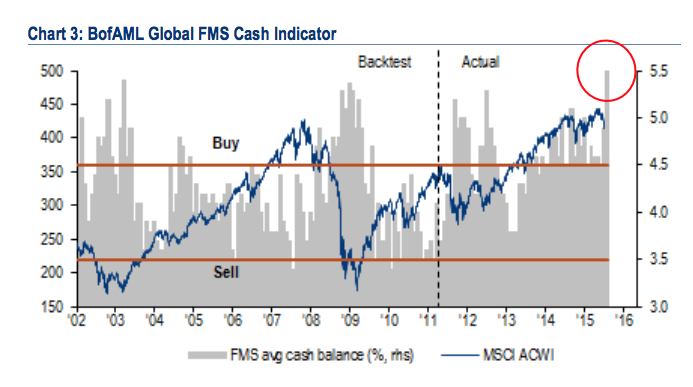 FMS cash levels jump to highest level since Lehman = trading buy signal; Greece & China = capitulation in risk appetite & China-plays; but record long in global banks = no macro capitulation, a complete contrast to 2008.

Cash levels soar to 5.5%, highest level since Dec'08 (and prior to that Nov'01)

As a reminder, the FMS Cash Rule works as follows: when average cash balance rises above 4.5% a contrarian buy signal is generated for equities. When the cash balance falls below 3.5% a contrarian sell signal is generated.
Josh here – My read is that global fund managers expected something to go horribly wrong in Europe or China, but they did not expect the global economy to be derailed. Hence, the chart below, indicating the fact that financial stocks have become a consensus long – a very improbable thing if global fund managers were truly bearish or worried about a crash: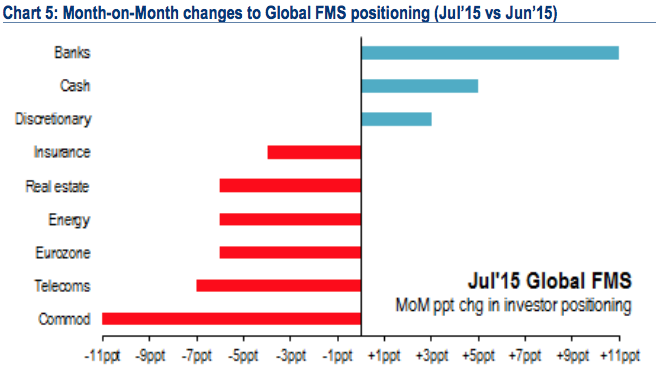 I would surmise that fund managers were betting on a macro dislocation that would present an opportunity, not a full-blown shitstorm. This probably explains the massive three-day relief rally in global stocks as the world exhaled on news of a workable Greek reform proposal.
We're a few days and a big rally beyond the end of the survey period. The question is, how much of this raised portfolio cash found its way back into the markets this week?
Source:
The Trojan Lehman
Bank of America Merrill Lynch – July 14th 2015