Savita Subramanian's group at Bank of America Merrill Lynch is out with an update on the state of actively managed mutual funds, noting that "44% of all managers outperformed" the Russell 1000 index of US large caps year to date. "Value managers had the highest hit rate of 77%, while 36% of Growth and 29% of Core managers beat their benchmarks."
That's a big jump over the 2014 disaster, thanks to the fact that all three preconditions for active management outperformance are back in place this year.
So how are actively managed funds getting the job done in 2015? Simple, they're taking more risk than the benchmark.
For example, active managers are dipping into smaller capitalization stocks than the index holds and they're also buying lower quality companies: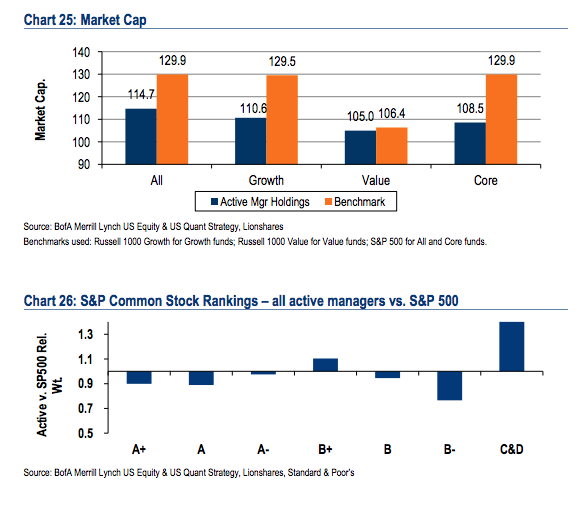 Josh here – In addition, the Equity and Quant Strategy group finds active managers currently owning more expensive stocks (on earnings yield and price/book), higher-beta (more volatile) stocks and stocks with lower dividend yields than the overall benchmark.
Whatever it takes?
Source:
What are your neighbors doing? 
Bank of America Merrill Lynch – June 22nd 2015