Young Jeezy and Lil Wayne told us, at the depths of the 2009 market sell-off, that "Scared Money Don't Make No Money" and those who listened almost certainly cleaned up. But I digress (what else is new?)…
Global portfolio managers are in scurred mode again as of this writing, if the Bank of America Merrill Lynch survey is to be believed. Ace Merrill strategist Michael Hartnett reports that a high percentage of the 200-plus PMs managing some half a trillion dollars are currently hedging and have taken down exposure to stocks in the last month:
Bottom line
Fed & Greece concerns…investors sell stocks, reduce risk & raise cash over the past four weeks; Q3 pain trade thus higher; We think US & EM have best potential upside if concerns prove unfounded Record % investors take out "protection" against equity fall next 3 months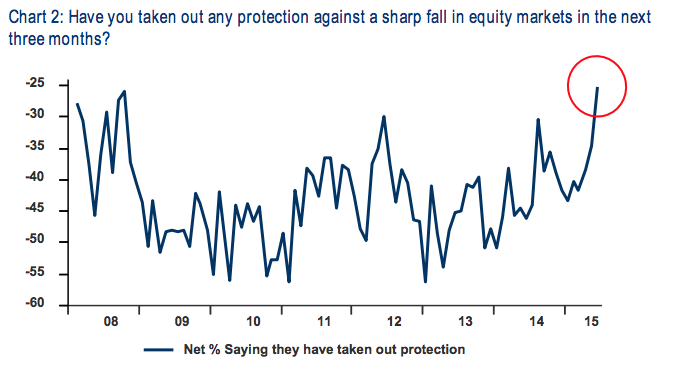 Josh here – Keep in mind that this is self-reported stuff – people sometimes tell surveyors what they want to believe about themselves…
One other interesting tidbit – 80% of the survey's respondents believe short-term rates will rise and only 4% see yields lower in the next 12 months.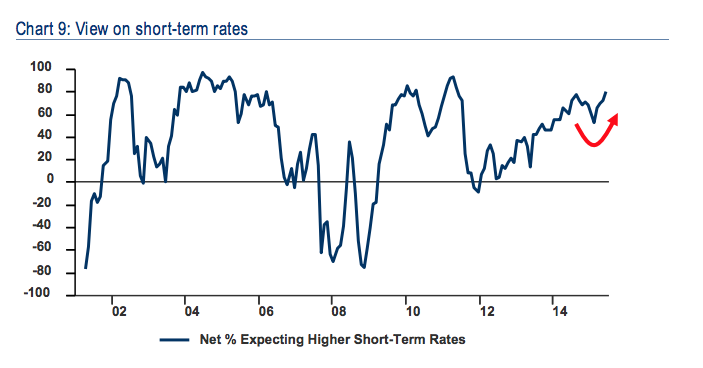 Source:
War and Greece
Bank of America Merrill Lynch – June 16th 2015