Bank of America Merrill Lynch economist Ethan Harris takes on the popular critique of extraordinary Fed assistance – that low rates and QE merely enrich the top income earners (who own investments) and widens the gap between the haves and the have-nots. Harris notes that it is typically in the second half of the recovery that this trend reverses itself – the early gains in corporate profitability give way to a labor class that regains the ability to negotiate higher wages as the pool of available workers shrinks and offered salaries become competitive.
Cutting off your nose to spite your face In our view, if anything, Bernanke is being too generous to his critics. There are two big stories at play. First, monetary policy doesn't push the economy back to full employment by magic; it does it by stimulating asset markets, bank lending and confidence. Hence, monetary policy cannot stimulate growth without rewarding asset holders. (By contrast, fiscal policy can target low income people.) Moreover, in each business cycle, the profit share of income surges at the start of the recovery and then fades in the second half of the recovery as the unemployment rate drops and workers acquire wage negotiating power (Chart 1). Advocates of an early Fed exit are in effect telling the Fed: "stop trying to get the economy to the second stage of the business cycle recovery when profit growth slows and wages accelerate."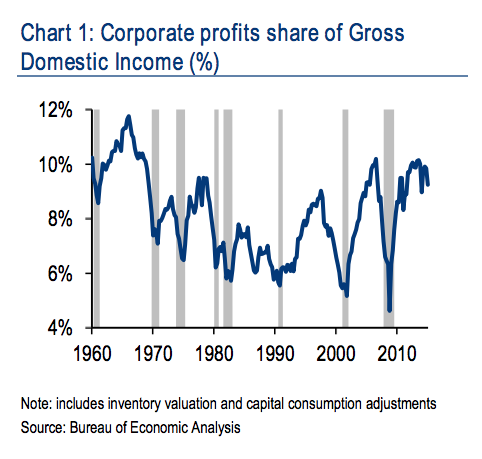 Josh here – this begs the question: Will 2015 go down as the year that the real economy finally outperformed the stock market?
Source:
The Fed and income inequality
Bank of America Merrill Lynch – June 9th 2015
Read Also:
Number of US job openings jumped to a 15-year high in April (AP)