MKM Partners' technical wunderkind Jonathan Krinsky notes that last week was one of the worst weeks for Treasury bonds in the post-crisis period. Yields on the 10-year were up 28 basis points on the week to the 2.40% level for the first time since last October.
As I explained earlier today, advisors were reacting to this action by shortening up duration and plowing into floating rate bond funds.
But we're still talking about a blip in the big scheme of things. Here's Jonathan on the longer-term view for the long bond:
Put This Move in Perspective The zero interest rate environment has made the moves in treasury yields feel quite drastic, but when we take a step back, we can see the backup in yields lately is a mere blip in the secular downtrend. We would need to see 30 year yields break 4% at a minimum to think the downtrend has ended.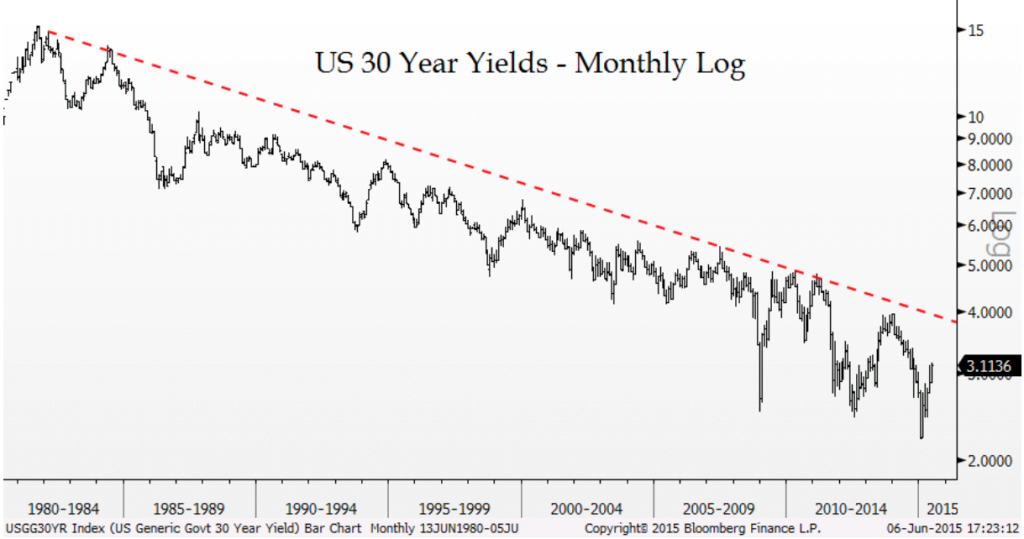 In other words, relax – we've seen this before and it hasn't materialized into a change in trend. It may not this time either. Too soon to tell.
Source:
A Duck Above Water
MKM Partners – June 7th 2015