My favorite quantitative analyst, Savita Subramanian (BAML), says The Street's recommended allocations to US stocks are still too bearish – historically a great contrarian indicator of future returns. It's no secret that Wall Street's chief strategist types took a long time to warm up to US stocks in the post-crash environment. The fact that they still haven't come all the way around tells you just how much disbelief remains out there.
Strategists are still recommending an underweight to US stocks relative to the 15-year average after all this time. originally, their intransigence probably had a lot to do with a lack of faith in reflation policies and the general macro malaise. Now the excuse probably has more to do with valuation concerns and a feeling that the easy money has already been made (no thanks to them!).
Here's some commentary from Subramanian's Equity and Quant Strategy note:
In May, the Sell Side Indicator — our measure of Wall Street's bullishness on stocks — was unchanged at 52.0 compared to the prior month. The indicator remains in "Buy" territory, as Wall Street's bearishness is still more extreme than at the market lows of March 2009. Given the contrarian nature of this indicator, we remain encouraged by Wall Street's ongoing lack of optimism and the fact that strategists are still recommending that investors significantly underweight equities, at 52% vs. a traditional long-term average benchmark weighting of 60-65%.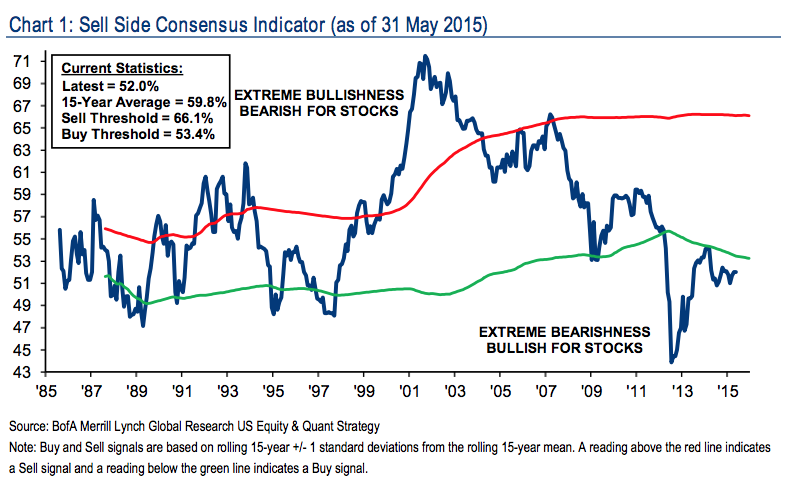 Josh here – According to the analyst, "Historically, when our indicator has been this low or lower, total returns over the subsequent 12 months have been positive 97% of the time, with median 12-month returns of +26%. However, past performance is not an indication of future results."
26% returns may be a lot to ask from this point forward, but I'd say the Wall of Worry is still very much intact when it comes to top-down portfolio advice from Wall Street.
Source:
Sell side indicator: Equity sentiment unchanged
Bank of America Merrill Lynch – June 1st 2015