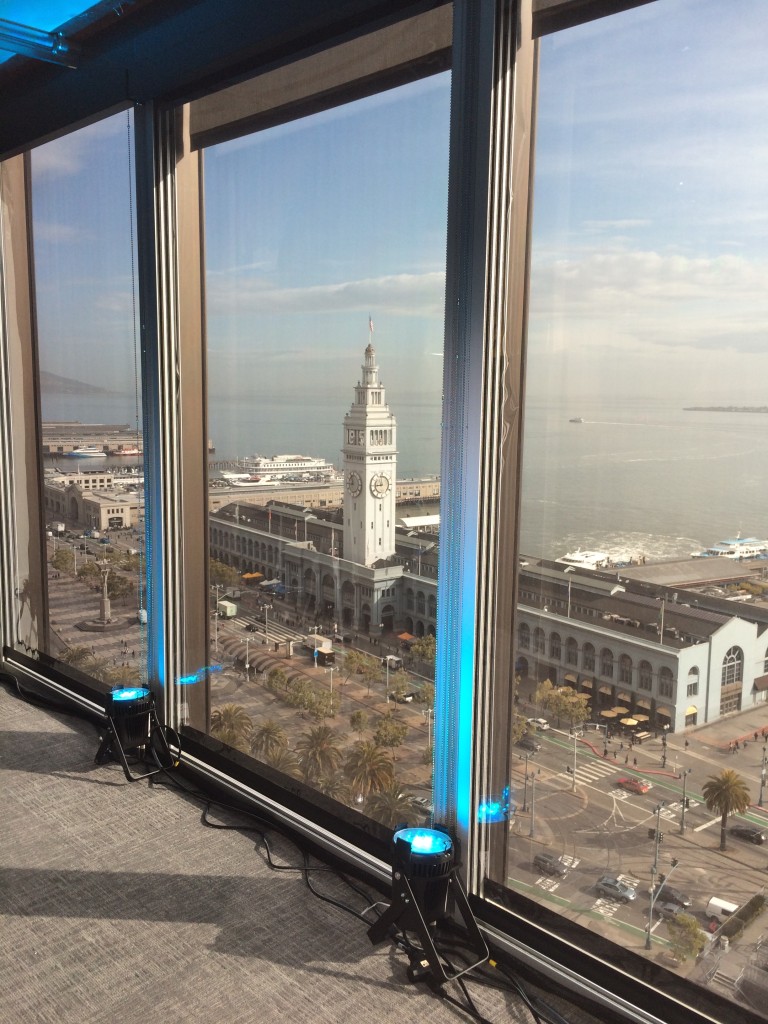 (a shot I took from the new CNBC bureau high atop Market Street, overlooking the Ferry Building)
Four days in San Francisco seeing our wealth management clients and meeting with prospective clients. It was quite a whirlwind. Ten random observations about the city, in no particular order…
1. The local economy is obviously on fire. Career programmers and developers with full-time jobs at Google, Facebook, Twitter, etc are making lots of money in salary and stock option compensation, and then a lot of them are putting excess savings into their friends' startups and venture deals, which are netting them even more. There's a bit of a King Midas phenomenon going on. "It's been hard to make a losing investment these days." Anthony Brown noted that if the rest of the country's economy was anything like NorCal, the Fed would have interest rates at 5%.
2. In terms of real estate, what's happening in SF is like New York City on steroids. Lots of my younger friends and contacts from the Bay Area are all in the same position – ready to buy a house and able to afford one, but they can't even at today's prices. 3-bedroom homes in the immediate suburbs are on the market for $1.1 million "and then they sell for $1.6 million within a week of listing." Young people are buying their first piece of real estate "but they're embarrassed to admit what they paid" to their friends. "Everyone knows it's crazy but what if it gets crazier and you're throwing six figures away on rent?"
3. Cranes everywhere in the financial district and beyond. The equivalent of a San Fran Rodeo Drive is sprouting up around Union Square, and on all four borders of the park, the buildings are under new development or reconstruction. Scaffolding and building equipment surround the square. The major difference between this boom and the previous one seems to be that, because it's based on actual revenues and profits, people are spending actual money in the luxury goods stores – not just counting their paper wealth.
4. Despite the tremendous prosperity, the homeless problem seemed to be worse than ever. I've been to SF several times over the years and I know homelessness has always been an issue, but this time – at least in the financial district where we stayed – the streets were teeming with them. New York has its share of homelessness, as do all big cities, but this was something else. Given the brilliant ingenuity and progressive ideals of the city's upper class, it's a bit shocking that more hasn't been done to tackle the issue.
5. The Bay Area knows how to eat. And I'm saying that as a lifelong New Yorker. Thanks to the Slanted Door (Vietnamese), Farmer Brown (soul food) and the Press Club (wine bar), three of my fave stops from the trip. I missed the jaunt through Napa, but I'm told my partner Barry represented for us 😉
6. At the bars and clubs, everyone openly talks about money. Some of the words and phrases I heard over and over again in all different locales were "vesting schedule", "stock options", "stock units", "restricted shares", "burn rate" and "we're raising a new round". These items are discussed freely, out in the open – among friends and strangers alike – and are often the icebreaker comments to strike up a conversation. It's not at all an exaggeration to say that people have caught a sort of finance fever – and it's highly contagious. The tone is not exactly boastful, it's more of a social signaling thing, as if to say "Hey, I'm in the game too, just like you." 
7. The bar scene at the Clift Hotel (the Redwood Room) is the most New York thing in San Francisco. It reminds me of the W Hotel on Lex during the heyday of the early 2000's. Not in a good way. It's okay, we ended up at the Tunnel Top, which is way less, shall we say, ostentatiously aspirational. Watching the Warriors in a playoff game at the Golden Gate Tap Room was a lot of fun too.
8. CNBC's new San Francisco bureau is pretty awesome. They're at #1 Market Street, which is really two towers connected by a massive, under-construction, indoor atrium at street level. The set overlooks the Ferry Building and the Bay Bridge crossing to Oakland. It's quite a view. It was great to catch up with Josh Lipton, Mary Catherine Wellons and the rest of the crew. They're covering the Renaissance Part II, it's an amazing time and place to be doing business journalism. Someone asked if they arrived "just in time to cover the crash." My own take is that a bust might be even more interesting to chronicle than an endless series of "so and so just raised another $50 million." Busts aren't a pure negative, by the way. They temporarily realign the cost of engineering talent and the price of real estate – two things that might be highly necessary so that innovation doesn't get choked off. Can SF's hyper-entrepreneurial culture survive another tech wreck? I think it can.
9. We should talk about the Unicorns for a second. Everyone seems to agree on two things:
a) These valuations are totally unsustainable…
b) …but Uber deserves it. They're "the real thing" and "maybe the next Amazon."
10. The best part of the week was getting to see so many of my friends and followers who came out for lunches, dinners, drinks and coffee.  We're really lucky to have such an amazing reader base out in SF – and everyone we met was so smart, funny, personable, intellectually curious and creative. I could see myself getting out there once a year. Thanks to everyone who came out to say hello!