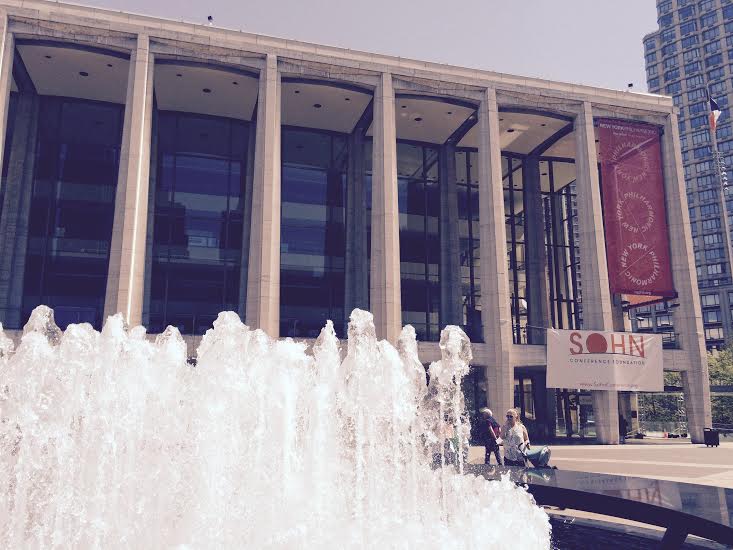 Avery Fisher Hall at Lincoln Center on conference morning. 
I'm live from the 20th Annual Ira Sohn Conference in New York City.
We did our Halftime Report show live from the hall before I got a chance to get into the event itself, so I missed David Einhorn's presentation (more below). I got to meet Bill Ackman for the first time this morning, so that was really cool. I think he likes me. Never can tell for sure. I'm a big fan of his, though. (Video of Scott Wapner and I talking to Ackman here and here).
The speakers are zipping through their remarks this year, with about 15 minutes per, which is good or bad, depending on the speaker / topic. Sure makes taking comprehensive notes easier 🙂
Anyway, my notes on the presentations below, I'm paraphrasing everything unless in quotations marks. Enjoy!
***
David Einhorn, Founder and President, Greenlight Capital, Inc.
Einhorn came out bearish on the economic fundamentals of some of the biggest fracking plays, or E&P companies. Specifically, Pioneer (PXD) got a good thrashing. I was live on TV during his talk, head over to Linette Lopez's take at Business Insider for the details.
Barry Rosenstein, Founder and Managing Partner, JANA Partners LLC
Missed the whole thing, oh well. Rosenstein talked up his new position in Qualcomm. Some details from Julia La Roche here.
Keith Meister, Founder and Managing Partner, Corvex Management LP
Long thesis on Yum Brands – presentation is titled "Think Mas", as in Taco Bell, one of Yum's brands.
Meister wants to see Yum Brands spin off their Chinese assets and then have the sub become a franchisee of the US corporation, "Fully independent Chinese company, no debt, leveraged play on the endless growth of the Chinese middle class."
He basically sees this unlocking $16 a share in value. His basic thesis is that US companies trying to do business in China are hamstrung by regulators, perception, etc.
The two companies that would result from this spin-off would give investors the best of all worlds. "The process of separation could be seamless."
$130 to $160 depending on how fully China recovers is how much the shareholders could be looking at, per share, on the combined entities' share price.
Yum is Corvex's second largest position ever.
Jay Walker, Executive Chairman, Patent Properties Inc.
Founder of Priceline, holds 652 US patents. Scares the shit out of us. Holds up a $500 drone you could buy from Amazon and says "what happens when someone takes one of these drones, or two or two hundred, and loads them up with bioweapons?" He notes that deadly pathogens are already being purchased on the internet as we speak.
Explains that 20 pounds of anthrax could kill millions of people at once. Tells a story about how a cult in Japan came this close to killing 500,000 people in Tokyo in 1993 but released anthrax vaccines instead of anthrax itself – because it ordered the wrong item from a lab in Iowa. "The language barrier is the only thing that saved us."
Jay's point is that social media will explode with frightening rumors and misinformation and can paralyze cities and economies. "We now live in world of thousands of potential black swans."
"Governments have lost control."
Bioterror Weapons + Drones x Social Media = the potential for economic meltdown.
He thinks the answer will protect us will not come from government, because keeping society calm has to happen organically – from the people themselves.
Leon Cooperman, Chairman and CEO, Omega Advisors, Inc.
Cooperman comes out and say "I don't know if I should even bother after that last speaker." Riotous laughter. Lee's the best. He did our show earlier and I got to say hello.
"If we get into a vicious bear market, our picks aren't likely to work."
He's bullish on stocks into year end. Thinks current multiple is about right. Negative on bonds. "Like walking in front of a steam roller to pick up a dime. You might get away with it for awhile…"
"Bear markets do not materialize as a result of immaculate conception." Goes on to explain that there are reasons for bear markets and recessions, they don't appear out of the blue.
He has a checklist of economic stressors, "nothing on my list indicates a trend toward recession."
"I'd be more worried if rates didn't rise than if they do."
"If there's a bubble out there, in my opinion, it's the fixed income market…Shorten the maturities in your portfolio, reduce the amount of fixed income. There's no cushion in bonds against a capital loss."
He would not be short bonds, however. Barton Biggs anecdote: "23 years ago Barton took me out to dinner and told me his favorite idea of all time: short JGBs." That's 23 years ago, still a widowmaker of a trade.
Cooperman's picks:
Actavis Not worried that it's heavily owned by other hedge funds.
Aercap Holdings
Citigroup: "We've met with Mike Corbatt, we like his story."
Dow Chemical
Google
GM
Priceline
Gulf Coast Ultra Deep Royal
***
Stay tuned for Part II, with commentary from Larry Robbins, Jeff Gundlach and more!