Deutsche Bank is out with some dour news on Q1 earnings trends. They note that only 62% of the 201 S&P 500 names that have reported through Friday are beating Street estimates on profit while an embarrassing 31% are beating on revenue. DB notes that this sets up the quarter for 0% year-over-year growth. And this is before the bulk of the energy sector's reports get underway.
One bright spot is the Health Care sector, which has been leading the market for a while and the first place the skeptics will point to as being in a bubble. I think it's fair to say that health care stocks are expensive relative to the market and to their trailing 12 months' earnings, but is this, by definition, proof of a bubble?
Nope.
It's proof of one simple fact: Health care companies are crushing right now, both relatively and absolutely. They've delivered a total return over the last 12 months north of 30% while the S&P 500 has done closer to 15%. The justification for this outperformance comes in the form of fundamentals…
via Midway 1Q earnings season update: Barely clearing a low bar (Deutsche Bank – April 26th 2015):
Health Care is delivering the best sales growth of all the S&P. It had 15%+ EPS growth on 10%+ sales growth in 2Q14–4Q14. Operationally this strong growth continued in 1Q, as despite FX headwind, blended EPS and sales growth is now 10%. All Health Care industries are posting double digit sales growth except Pharma and Life Sciences Tools & Services. Biotech leads with 23% y/y sales growth and 44% EPS growth.

We believe strong sales/EPS growth trends at HC will continue. It is trading only 1pt higher than S&P 500 on 2015 EPS, but it is not cyclical and has significant PE upside if real long-term bond yields stay well below history as the Fed hikes.
My chart below is the XLV:SPY ratio chart, which has been trending higher since Blurred Lines was on the radio every 15 minutes and has barely missed a beat through the Uptown Funk / Shake It Off era. In the panes below, price performance (%) for the XLV Healthcare Sector SPDR followed by price performance (%) of the SPY itself.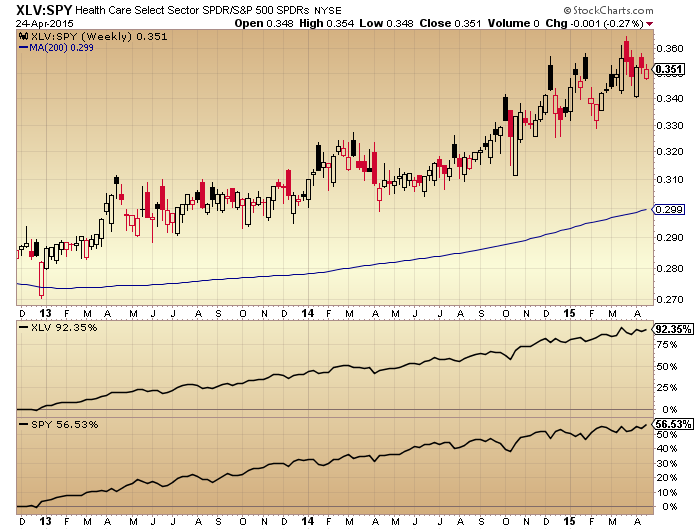 Premium valuations get there for a reason, premium performance too.
Oh, also I think we can stop referring to the health care sector as "defensive" at this point too. They're not exactly selling girdles and goiter pills anymore.