If you ask me to tell you the story of the investment markets so far in 2015, I'd say that it's all about international stocks taking the torch from the US, which is clearly acting like an exhausted runner coming around the track after a third lap of outperformance (2012, 2013, 2014).
Those of us who are managing global asset allocation portfolios are having an easier time helping our clients to behave this year than we may have circa this time last year, when the S&P 500 was seen as the only game in town or "the best house in a bad neighborhood."
And now, the technical setup may be portending an even better environment to come…
Bank of America Merrill Lynch ace technician Stephen Suttmeier takes a look at the potential for a new breakout in the MSCI All Country World Index (ACWI), which is a popular benchmark for global equity strategies, as it encompasses some 44 countries and approximately 85% of the total stock market opportunity set.
MSCI ACWI positioned for a bullish triangle breakout
The MSCI ACWI (MXWD) is a broad-based global equity index of 2,467 stocks. The ACWI is consolidating within the rising channel from mid 2012 and set up for an upside breakout from a bullish ascending triangle. A decisive move above 434 would confirm the triangle and favor a rally to 475-480.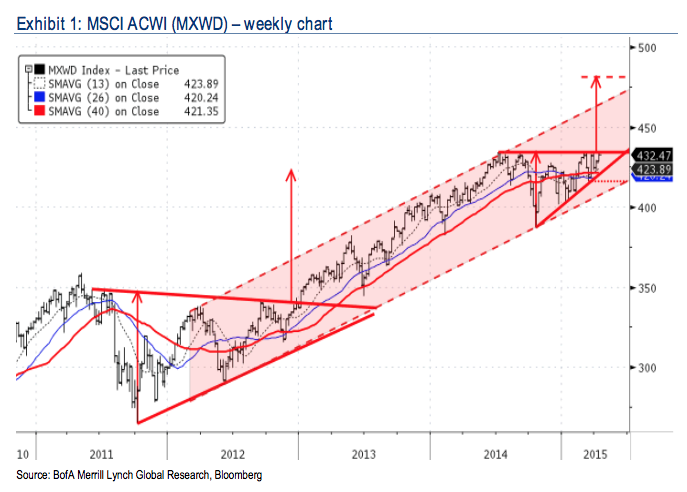 Source:
Bullish setup for MSCI ACWI 
Bank of America Merrill Lynch – April 9th 2015