2015…
For Uber to get to $40 billion or Airbnb to $20 billion, you'd need to get a little creative with the variables underlying that logic. Since private tech companies often lack earnings or enough historical data to inform projections—or, in the case of Snapchat, any significant revenue—investors can't rely on the metrics available for public companies. If there were a math problem for determining a tech startup's valuation (for the record, there isn't), it might look like this:
2000…
RISKS RELATED TO OUR BUSINESS

WE ONLY BEGAN SELLING OUR PRODUCTS IN FEBRUARY 1999 AND WE OPERATE IN A NEW AND RAPIDLY EVOLVING MARKET, WHICH MAKES IT DIFFICULT FOR INVESTORS TO DETERMINE WHETHER WE WILL ACCOMPLISH OUR OBJECTIVES.

THE SUCCESS OF OUR BUSINESS DEPENDS ON ATTRACTING AND RETAINING A LARGE NUMBER OF POTENTIAL CUSTOMERS. IF WE ARE UNABLE TO DO SO, WE WILL NOT BE ABLE TO ACHIEVE PROFITABILITY.

WE HAVE A HISTORY OF LOSSES AND WE EXPECT SIGNIFICANT INCREASES IN OUR COSTS AND EXPENSES TO RESULT IN CONTINUING LOSSES FOR AT LEAST THE NEXT FOUR YEARS.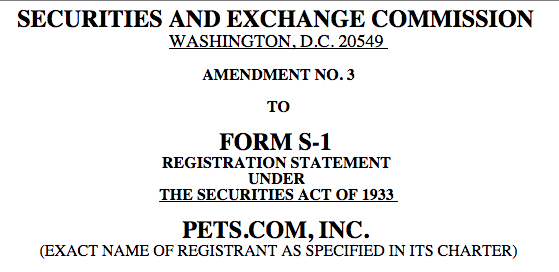 1899…
The fool and his money (Louis Dalrymple)

Caption: "With reference to these large combinations of capital which are now forming, my own judgement is that the danger is not so much to the community at large as it is to the people who are induced to put their money into the purchase of the stock."

– Attorney-General Griggs.

Illus. from Puck, v. 45, no. 1155, (1899 April 26), centerfold.