I'd like to solve the puzzle… pic.twitter.com/1fRgQxpYmp

— Downtown Josh Brown (@ReformedBroker) March 18, 2015
As of this posting, stocks are exploding higher as the FOMC pulls the word "patient" from its statement. You literally could not make this up if you tried, even if you worked for Saturday Night Live or Monty Python.
Peter Boockvar (Lindsey Group) shares some of the forward-looking stuff with us below:
With respect to forecasts, the Fed lowered its 2015 GDP range to 2.3-2.7% from 2.6-3% and also lower its range for the next two years. They again lowered their unemployment rate range to 5-5.2% from 5.2-5.3% with only a modest change to 2016. They also lowered their estimates for both headline and core PCE in 2015 with just a modest reduction in 2016. As seen with the December forecasts, 15 members still expect a rate hike in 2015 with 10 estimating, according to the dots
Here's the 30-minute SPY chart, if you're in the mood to laugh. Everything is breaking record highs right now except the dollar.
Rock n' roll.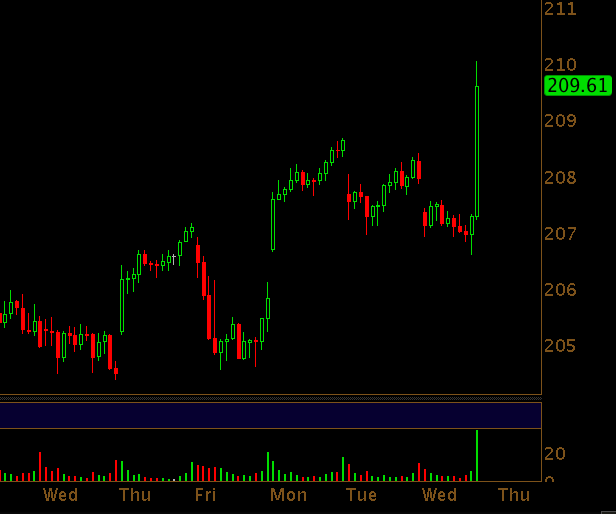 Full FOMC statement at Business Insider here.