Strong dollar – good or bad for stocks? Unfortunately, there's no definitive answer based on history. It's different every time.
Goldman Sachs's Portfolio Strategy Research group mentions that virtually all substantive client discussions over the last week have been about the impact of the US dollar on our economy, corporate profits and stock prices.
They note that a soaring dollar (and plunging euro) has much more of an impact at the individual stock level than it does at the index level. This is especially true when incorporating a halving of the price of crude.
Here's GS:
Historically, S&P 500 index performance is indifferent to FX moves. Since 1981, the trade-weighted USD has experienced nine strengthening and weakening cycles. The median annualized S&P 500 return was nearly identical during both cycle phases, posting similar returns regardless of whether the dollar was rising or falling. Similarly, one-year daily correlation of the USD and S&P 500 has averaged 0 since 1976.
What they're saying above is similar to our own internal findings about equity market returns and weak / strong dollar regimes. This is why we tend not to hedge our foreign equity holdings as a rule for our asset allocation models – there simply isn't any way for us to know for sure whether or not it will work better from one era to the next.
One more thing from GS, on the impact of the strong dollar in terms of S&P earnings…
Our earnings model suggests USD strength, when coupled with the 50% year/year decline in the price of oil, has a neutral effect on our 2015 EPS forecast of $122. From a sensitivity perspective, a 10% strengthening of the trade-weighted dollar relative to our baseline forecast translates into a reduction of roughly $3 per share in S&P 500 EPS. The impact of FX on EPS is symmetrical so a weaker USD implies more EPS
It's worth noting that, while Goldman's estimates don't move much this year for S&P 500 earnings, their forecast is for present trends in the FX market to continue. The firm's currency strategists see zthe euro falling to .95 versus the dollar over the next year with a drop to as low as .80 by 2017. Their expectations in the chart below: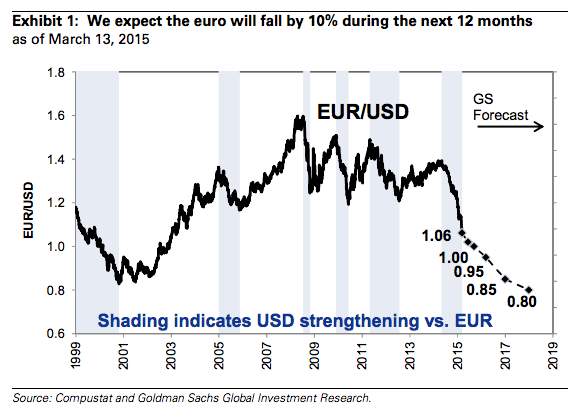 Source:
US Weekly Kickstart
Goldman Sachs – March 13th 2015