Jason Goepfert via Tyler Durden – tech and biotech insiders are now selling record amounts of their own insider stock. To whom are they selling? Why, to their own companies of course!
Insider selling and corporate buybacks are both smashing records at the same time. Circular funding schemes are awesome! It's just like how the Fed creates dollars to buy newly issued Treasurys and then remits the interest it collects on those bonds back to the Treasury department! Why wouldn't corporate insiders play the same game, given how well it's worked so far when daddy and mommy do it in Washington?
OK, I'm trolling but just a little.
Two charts connect the dots:
Here's the supply – tech sector insider selling chart from Goepfert's Sundial Capital (via MarketWatch):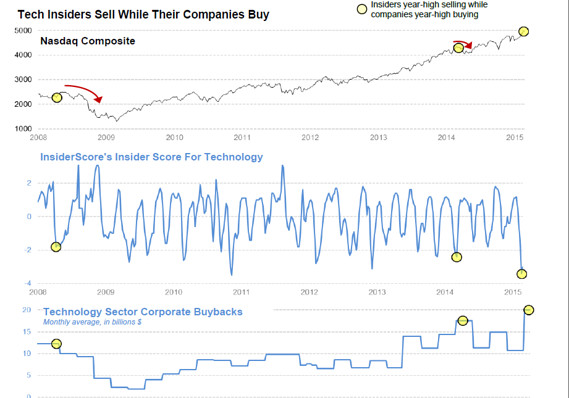 and here's the demand – Deutsche Bank says "buyback announcements have surged with February posting the  largest monthly tally on record, at $98 billion (via Zero Hedge).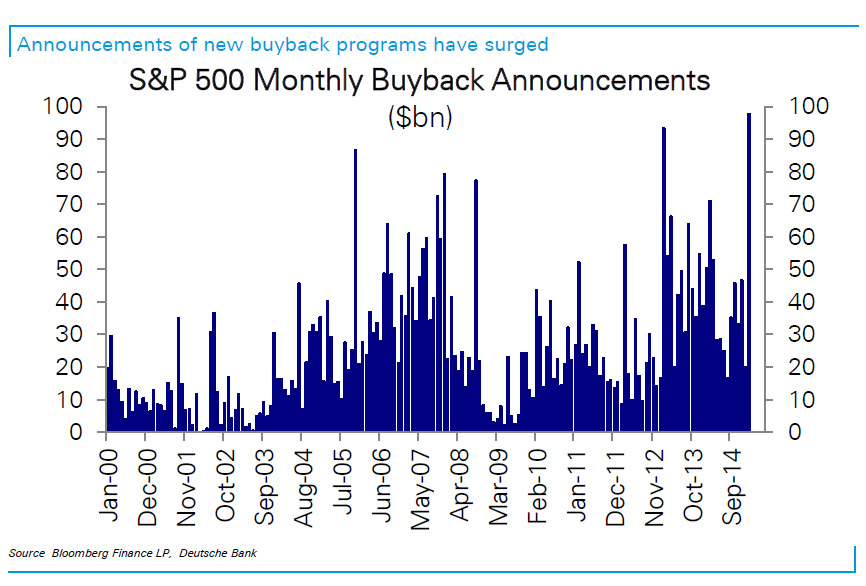 Josh here – one important caveat: Of course the dollar amounts in insider selling seem heavy relative to history, this is because tech company market caps are gigantic, somewhat justified by the enormous growth in earnings and revenue for many of them. If you were a VP at Apple and sold 10,000 shares two years ago vs today, the dollar amounts would vary widely based on the price of the stock while you're still selling the same amount of shares.
Read all about it at the following links and decide for yourself: Coincidence or "the biggest circle jerk in history!"?
Source:
The Nasdaq Has Become The Biggest Circle-Jerk In History (Zero Hedge)
Tech insiders dumping stocks as their companies buy them back (MarketWatch)
Here Is The Reason Why Stocks Just Had Their Best Month Since October 2011 (Zero Hedge)