Chris Kimble commemorates today being the sixth anniversary since the S&P 500 traded down to 666 and bottomed on a dime.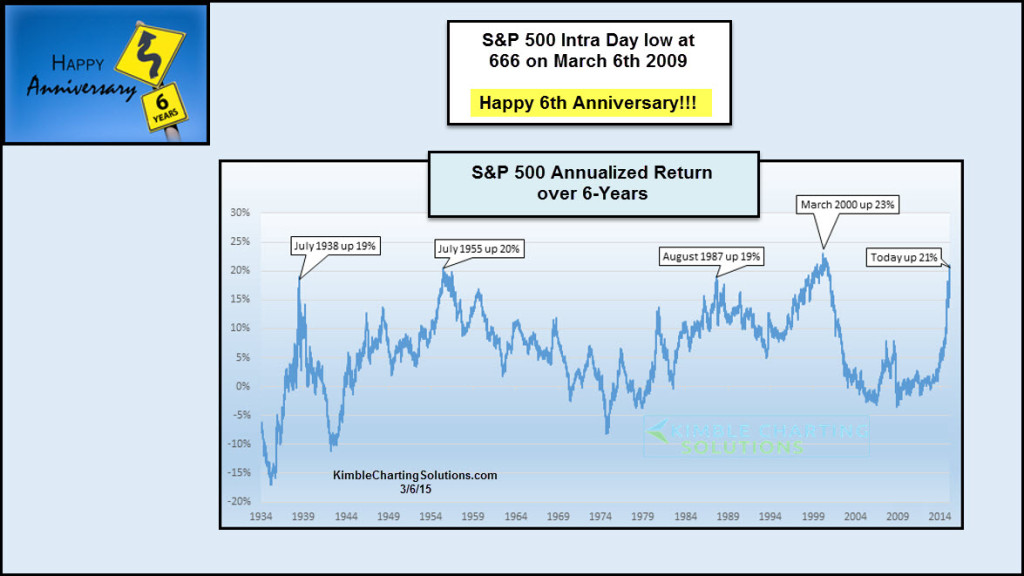 He notes that average annual returns for the S&P 500 index since then are running about 21% – all you had to do to earn them was to ignore the 57% murdering of the market leading up to then and then spend the next half-decade fighting every single urge to sell under the sun. Easy as pie!
Sayeth Chris:
The chart looks at other time 6-year windows of time and looks at annualized returns since the early 1930's.

As you can see when you compared other six year returns that averaged 19% or more, the recent run up is rather steep!
And just for fun – here was my blog post from today six years ago. Yes, I had completely thrown in the towel mentally by then, after 18 months of handholding and margin call-making and all of the other horrific shit that comes along with the worst bear market in 70 years.
Source:
Happy 666 Anniversary everyone! (Kimble Charting)
Read Also:
TGIF: Dow 6500…Sing with Michael! (TRB)