Breaking the link between a portfolio's allocation to stocks and the market capitalization of those stocks is the basic idea behind Smart Beta investing (Morningstar calls it 'Strategic Beta' now, which is not catching on). This is an idea that been around for decades, at least since the early 80's when Fama and French unveiled their three-factor explanatory model of stock market returns.
Indexing – and alternative indexing – has become increasingly more popular in recent years. Society as a whole has become more enamored with data-driven solutions to everything in life. This extends to our investing. Quants have supplanted cowboys and witch doctors in many fields. Finance is not immune.
Everyone puts their own spin on the right way to do this type of quantitative investing – from Rob Arnott's version in which the link is broken severely via an all-fundamentally weighted index to the Dimensional Fund Advisors approach in which portfolios are tilted toward the factors that earn extra and away from those that do not.
But what most smart beta strategies have in common is that, at the end of the day, they look very much like the traditional style of index investing they are meant to enhance. In a new, highly readable guide to smart beta from Research Affiliates' own Jason Hsu, we see just how similar these two approaches are:
SMART BETAS HAVE MANY CHARACTERISTICS IN COMMON WITH TRADITIONAL INDEXING. SMART BETA INDICES: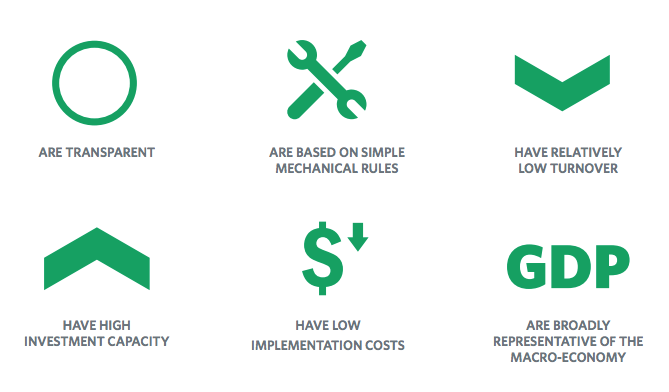 If some of this terminology is new to you, or you're just looking for a worthwhile refresher on the idea of factors and non-cap weighted indexing, do yourself a favor and read the whole guide.
Source: