At the request of so many investment advisors, my friends at Riskalyze share the big trends in the assets going into and coming out of advisor portfolios every week. The underlying data is aggregated from hundreds of thousands of client accounts across the $44 billion and counting that advisors manage on the Riskalyze platform*. I hope we can uncover interesting trends for you each week…

February 9th – 14th 2015
Winners
(advisor flows TO these investments increased substantially):  
Real Estate (IYR, VNQ)

Healthcare (XLV)

Apple (AAPL)
Losers
(advisor flows FROM these investments increased substantially):
Short Duration Bonds (JASBX, LDLFX)

Mid-Cap 400 (IJH)

McDonald's (MCD)
Josh here –  very mixed bag this past week without much rhyme or reason that I can make out. The liquidation of short-duration is interesting – it actually coincides with yields at the short-end of the Treasury market rising faster than at the long-end. If you're earning .65% on 2-year Treasury notes and bigger economic growth starts kicking in, it's definitely going to make you rethink those yields.
I made a quick n' dirty chart of one month yield changes for the 5-year notes versus the 30-year (percentage comparison in the bottom pane). You can see things getting heated as we saw that January jobs number come in ahead of expectations, with higher wages and prior month revisions to boot.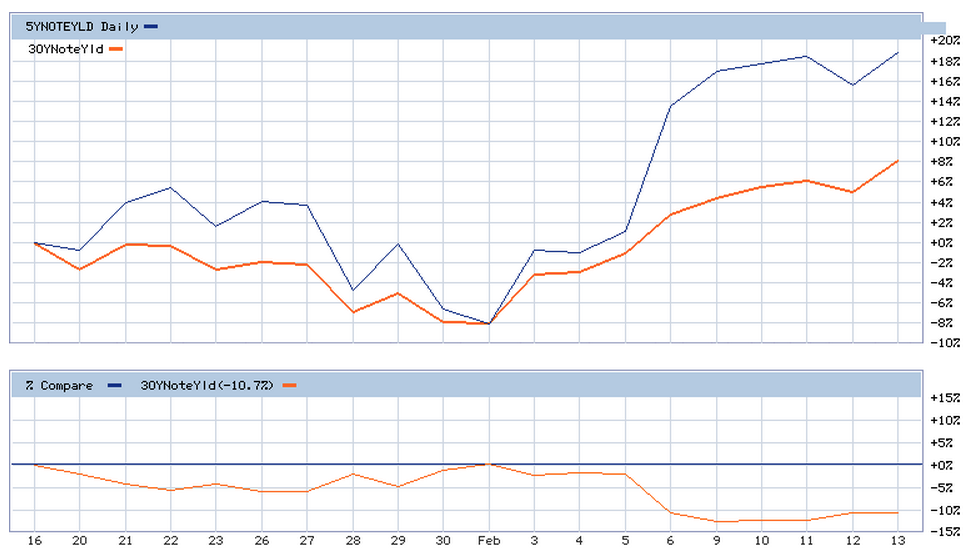 A word about Riskalyze:
In my practice, we use Riskalyze software tools to help assess clients' true risk tolerance and to test portfolio configurations that match up accordingly. It's changed our practice for the better, as I explain here.
*(to state the obvious, Riskalyze does not share client sensitive data with me or use animals in testing).