It's been said that until an index breaks above a pre-established high, it remains in a secular bear market and is guilty until proven innocent.
The S&P 500 finally broke above its prior peaks from 2000 and 2007 back in 2013 but the Nasdaq had a long way to go to get back to the March 2000 highs. And think about how long ago they were set! If you're anything like me, you were probably listening to a lot of Korn in those days. And maybe even some Staind. Okay, we won't go there.
Those bubble-era highs above 5,000 for the Nazz seemed so far away just a few years back – but now they're in sight.
The Russell 2000, the Dow Jones Industrial and Transportation Averages, the MidCap 400 and the S&P 500 have all made new record highs in the current era but the Nasdaq is the Big One.
Stephen Suttmeier, Chief Technical Strategist at Bank of America Merrill Lynch, points out that this event is not a far cry from happening – and maybe soon. It's on a lot of technicians' minds right now…
The NASDAQ has consolidated since late November. The pattern of higher lows from mid December through early February combined with horizontal highs sets up a bullish ascending triangle. A decisive break above 4815 would confirm this pattern and favor a rally to 5085. The rising channel from late 2012 counts back to the March 2000 high of 5132.52 by late April.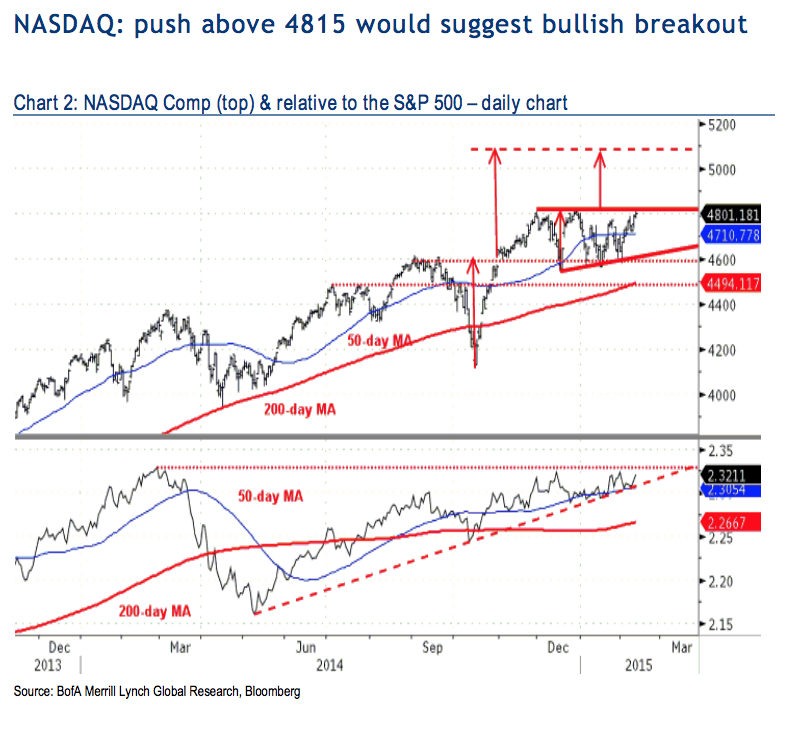 Source:
NASDAQ Comp set up to test March 2000 high
Bank of America Merrill Lynch – February 12th 2015