On October 15th, I officially declared the Relentless Bid era over (see There She Goes, My Beautiful World).
It wasn't a bold call, markets had been acting differently since at least last August. Selloffs were occurring with more frequency and less stocks were rising as we made subsequent new highs. The days of "just buy anything" in the stock market had come to a close, the return of winners and losers, volume and volatility, was nigh.
Fast forward a few months later and it looks like we got ourselves a ballgame once again. The no-vol, sleepy grind higher has been replaced with all sorts of drama. Confusing economic data points abound. Global macro bullshit is back. People are talking about Greece like it's an actual economy and not just an abandoned museum with $350 billion in debt.
I don't know the real reasons for why BTFD isn't working so automatically, so effortlessly, anymore. Neil Irwin at the New York Times says it's because of currency fluctuation wrecking the earnings reports of US multinationals and because the drop in crude has castrated capex budgets from coast to coast. That all sounds realistic, sure.
But the why isn't terribly important to me. The what, however, is very interesting.
I submit to you that this new phase of deflation fear and headline-humping is actually a good thing for both the markets and for the professionals – like myself – who work here.
Financial advisors, traders, hedge fund managers and other asset assigners cannot distinguish themselves when the only thing that goes up is the S&P 500 and it goes up every day, every week, every month of the year. We mostly waste our efforts and our time in that atmosphere, which had been in force for approximately 24 months straight until this winter. When investment profits become automatic for anyone who simply shows up, and diversification looks increasingly asinine with every quarter, we become almost useless – vestigial. 
Here we are, discussing hedges and protection and non-correlated asset classes and Value at Risk calcs and risk-adjusted returns and it's like a giant f***ing joke as the ice cream man remains parked right outside our window. Any discussion of the risk of US stocks had become almost a non sequitur by the end of last year. "What are you even talking to me about right now? What risk?"
Now of course, consequence-free environments don't actually exist in markets or in life – at least not for long – but even still, it was beginning to get really sad around these parts.
But the profits for just showing up aren't quite so automatic so far this year and the large-cap US stock rodeo seems to be coming unhinged. Today's 300 point Dow decline on the type of luke-warm data mix that used to be good for a hundo to the upside is yet one more piece of evidence that attitudes have changed.
There isn't a single major US stock market average that's in the green for 2015 save for the SmallCap 600, which is ridiculous; it's like watching the jockeys run down the field at Belmont without their horses underneath them.
In the meanwhile the dollar is racing higher and so is gold, in what's become a bad Buddy Cop flick without a plot.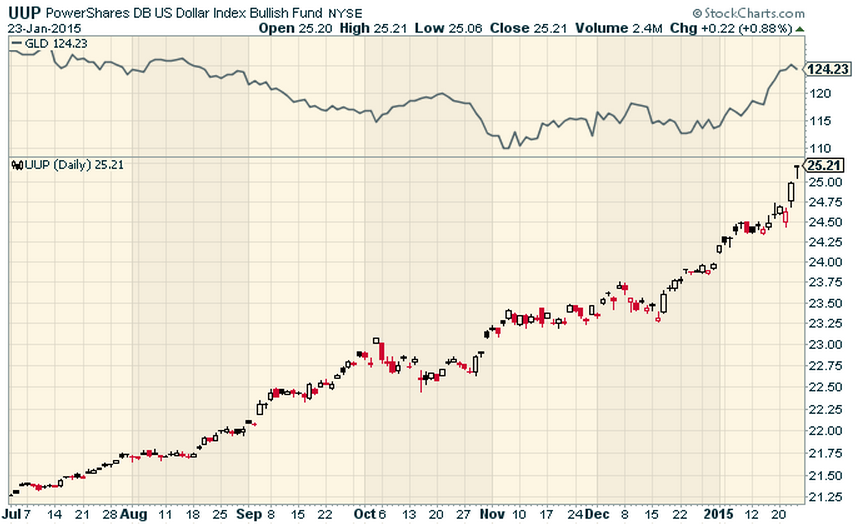 And despite the knock-down, drag-out bonanza earnings report from Apple we got this evening, blow-ups like we've seen in Caterpillar are much more common (the trifecta: currency woes, oil woes, capex woes all in one).
But again, this is not a negative, it's a positive. Pros have a reason to get out of bed again and do their jobs. Vanguard may go a month or two without shattering an AUM record. And a much-needed dose of reality is being injected into the psyche of a hundred million investors. It's not all Viennese dessert carts being wheeled out day after day. There's some pain in this thing.
The paradox of stock returns is that stocks are supposed to carry more risks than bonds – and yet they out-earn bonds over the long-term, which should make them appear less risky, not more risky. When the extra return of equities is not being earned with extra risk, the game becomes flawed and the players become reckless. I'd argue that this is a net negative for the investor class, because of the bubbles it eventually leads to.
And so as a professional, and as a person, I'm glad to see an environment that forces us to earn our upside once again.
Game on.