Whether it's hedging or spec, commodity and futures trading volumes have been taking off.
The CME, where much of this activity is hosted, just put out the below infographic with the accompanying release: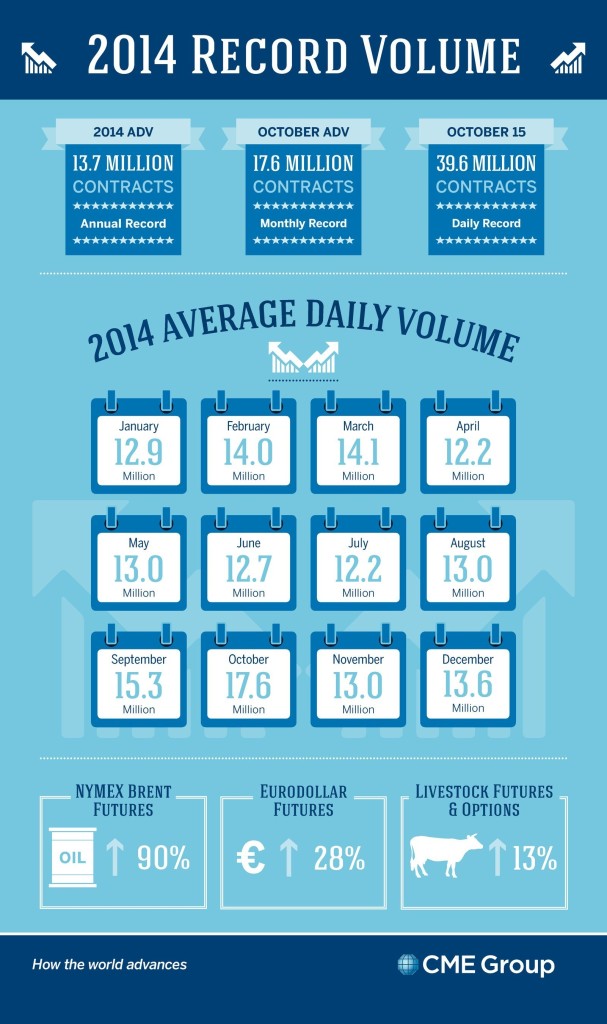 CHICAGO, Jan. 8, 2015 /PRNewswire/ — During 2014, a number of market-moving events led to seismic shifts in volatility. As a result, market participants have turned to futures and options traded at CME Group, the world's leading and most diverse derivatives marketplace.

Both futures and options volumes grew significantly across multiple asset classes at CME Group during the year. Annual volume averaged a record 13.7 million contracts per day in 2014, with October monthly volumes averaging an all-time high of 17.6 million contracts daily. On October 15, overall exchange volume marked a single-day record of 39.6 million contracts traded, including a record 7.3 million options contracts.

CME Group's options complex has also seen steady growth since 2009, including a monthly record of 3.5 million contracts average daily volume in October 2014. The way global participants are executing their options trades at CME Group has also evolved. Electronic execution of options surpassed 50 percent for the first time in December 2012. Most recently, November set a new record of 53 percent of options being traded electronically.
Source:
CME Group