Savita Subramanian reminds investors that Januarys are a seasonally strong month – especially after the prior year.
January is seasonally strong, especially after a strong year

Since 1929, January has been one of the seasonally strongest months for the S&P 500, with average and median price returns of +1.3%/+1.6% vs. average/median returns of +0.6%/+0.9% for all months (Chart 1). January has also had the second highest percentage of positive returns (64%) after December (75%). Returns have tended to be even stronger following years where the S&P 500 has double-digit gains, as it has so far this year. In these years, returns have averaged +1.8%, with positive returns 68% of the time.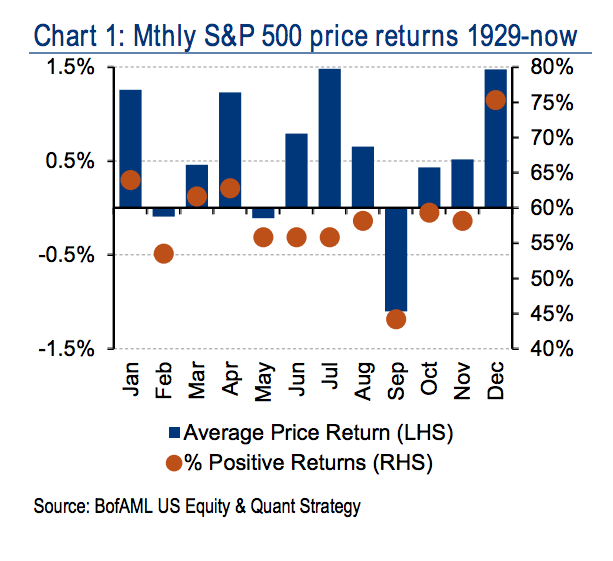 Josh here – while January is usually great after a positive year, higher 68% of the time by an average of 1.8%,  it's important to keep in mind that averages are helpful but not predictive. They don't work every year. Notably, January of 2014 followed an incredibly strong year in 2013, but treated investors to a peak-to-trough 6% selloff from the moment the year began, bottoming on the first day of February.
Like most things, seasonals work often except for when they don't. And no one tells you which time you're in – the exception or the norm – in advance.
Source:
January in full effect
Bank of America Merrill Lynch – December 23rd 2014