Cool correlation chart from Richard Bernstein's newest strategy note: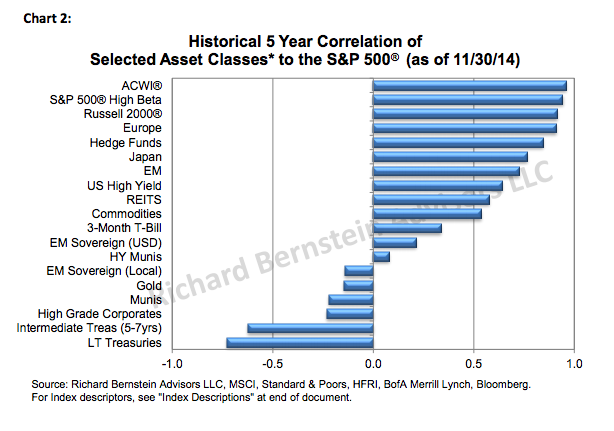 Richard Bernstein uses LT Bonds as a counterweight in his portfolios, as many advisors have taken to doing, as opposed to more expensive forms of hedging (hedge funds, black swan funds, put protection etc):
3. Treasuries for diversification…yes, still.
We have become somewhat notorious for our liking of treasuries as a portfolio diversifier. Although not as extreme as it was several years ago, Chart 2 shows the correlation of various asset classes to the S&P 500® and there are relatively few asset classes that have negative correlation to stocks. By including treasuries, we can take stronger risk positions within our multi-asset portfolios, but not increase overall portfolio volatility.
Source:
2015 Year Ahead: Continuing to deflate the global credit bubble
Richard Bernstein Advisors – December, 2014