Disregard any nonsense you hear about Black Friday being a bust. This year's shopping season began in the middle of November and online sales will continue up until two days before thanks to endless buying and shipping promotions that continue to evolve throughout December. And as for taking the weak NRF data point about last Friday's retail activity and weaving it into a narrative about the consumer, do yourself a favor and familiarize yourself with the reality first.
I have three quick things to say on this topic:
1. Here is the actual consumer situation, in data, from the Bank of America Merrill Lynch US Economics team: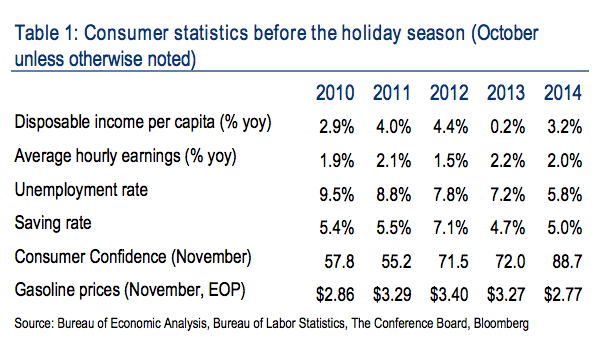 Impossible to look these progressions and say the backdrop for consumer spending isn't favorable compared to recent years. Granted, wage growth could stand to see faster improvement, but as the labor market tightens up, discouraged workers are being pulled back into the workforce, so there just isn't that pressure for employers yet. Soon enough.
2. The Washington Post quantifies the benefit to everyday Americans from the recent drop in oil prices:
Every day, American motorists are saving $630 million on gasoline compared with what they paid at June prices, and they would get a $230 billion windfall if prices were to stay this low for a year. The vast majority of that will flow into the economy, with lower-income households living on tight budgets likely to use money not otherwise spent on gas to buy groceries, clothing and other staples.
As I explained in my Fortune Magazine article last month, 47% of US households live hand-to-mouth and people with incomes of $50,000 or less spend 20% of it on energy. These are the people who are most likely to spend any difference in gas prices immediately, so a "tax cut" at the pump has a favorable impact on them (and the stores / restaurants that cater to them) immediately.
3. Lastly, here's a chart of the S&P Consumer Discretionary Sector SPDR ETF: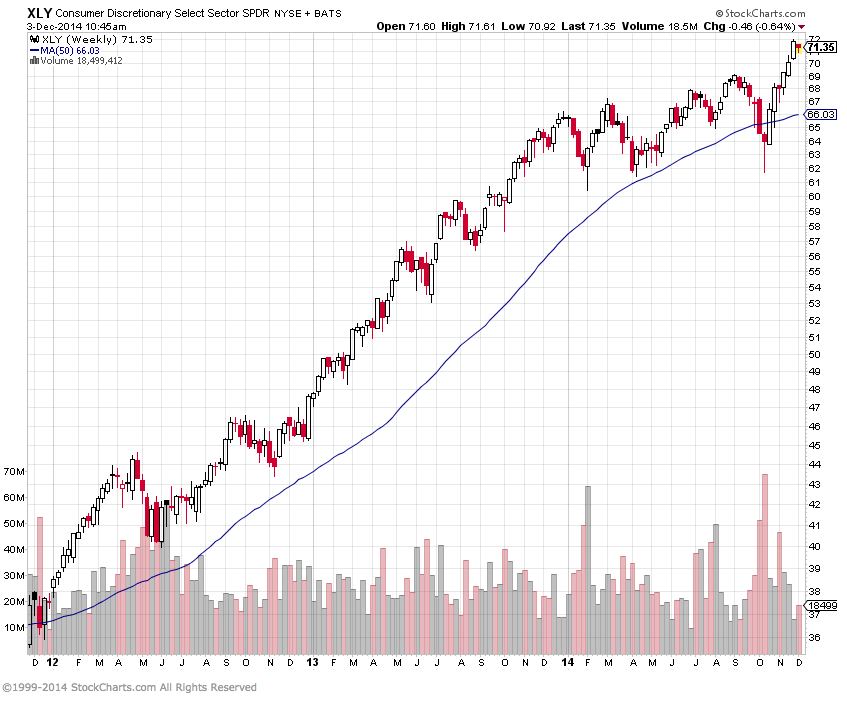 This is not happening because of magic thinking, it's happening as a result of positive earnings revisions.
There's a breakout happening for US consumers – broadly speaking – that's five years in the making. Let's hope it sticks.