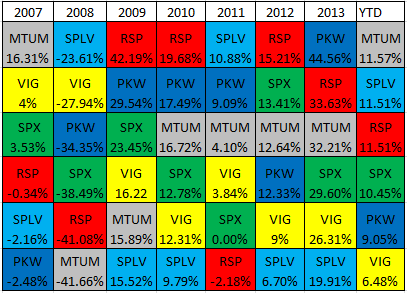 My firm's director of research has an important post up today with a handful of findings from a larger project we've been working on. Michael Batnick points out that, contrary to the hatred and suspicion surrounding the term "smart beta", there is a ton of validity to these strategies. He took five of the most popular smart beta indexes and showed that all of them have beaten the traditional cap-weighted S&P 500 since 2007.
The catch was that you had to do the following:
1. Pick one and stick with it.
2. Ignore the fact that there were other smart beta strategies that had done much better in a given year.
3. Not hop from strategy to strategy, allocating to whatever just worked in the prior year.
I send you over now, you will learn something:
It's Investor Behavior, Not Investment Behavior That Matters (Irrelevant Investor)
Read Also: