If the Dow Jones Industrial Average closes the week out about where it is, it will have gone negative on the year to the tune of some 3 percent. Because the Dow is Main Street's index and the most-cited when the newspapers and local TV affiliates talk markets, this actually matters to people.
Much will be made of the fact that "the Dow has gone negative for the year."
I thought it would be interesting to look at how frequently the Dow posts a weekly close that is below where it began the year. Turns out, this happens all the time and it signifies nothing.
For starters, let's look at recent history…
So far, in 2014, the Dow has posted a weekly close with negative YTD performance 22 out of 41 weeks, or roughly 54 percent of the time. In other words, flip a coin.
Since 2000, the Dow has gone at least flat at some point every year with the exception of 2013 – which is probably why it seems like a bigger deal than it should be. The only other year in the last fifteen where a flat or down week was exceptional was 2006, during which the Dow only went negative during one week.
When we take the really long-term view back to 1950 – 64 years – we see that the percentage of negative weekly closes for the Dow each year averages around 34 percent. As you can see in the chart below, there is tremendous variability – with some years posting nothing but down-weeks for the Dow and some years posting none.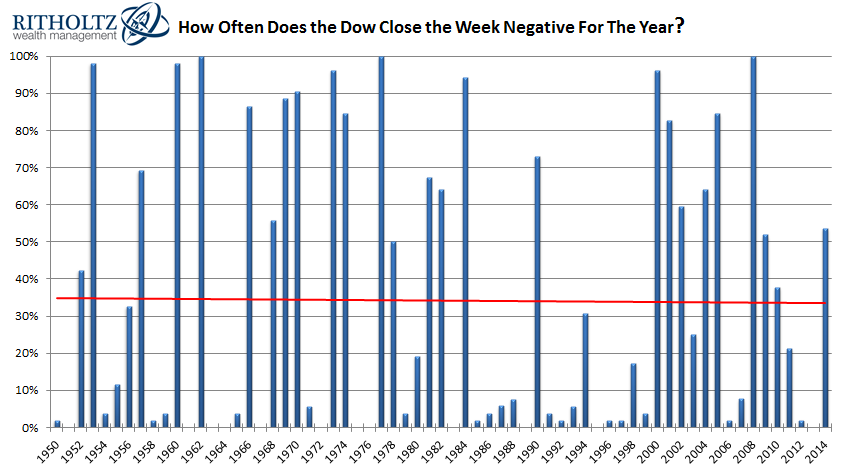 It's true that we're a bit above average in 2014, with more than half of all weekly closes negative for the year, but there's no signal there. The last time we saw this, for example, was 2009 – a year in which the Dow finished up some 22 percent, despite all those down-on-year weekly closes.
You can safely say "so what, happens almost every year," the next time you hear someone fussing over the Dow going negative. It says absolutely nothing about what's to come this year or next.