Where we stand in the US stock market, three quarters of the way through the year. Blood is thicker than oil so far, with biotechs raging and energy stocks just absolutely terrible in 2014. Obviously large has been better than small as well and the chasm between the two cap classes is actually widening, not shrinking.
All of my data below comes from Dow Jones.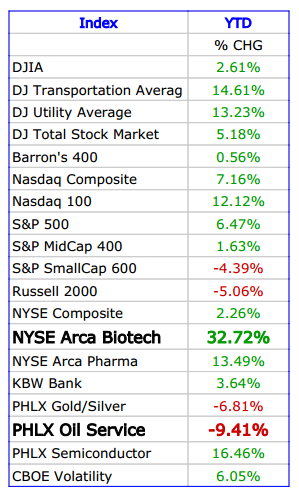 It's worth noting that the Dow Jones Industrial Average has underperformed the Barclays Aggregate Bond index by almost half (total return for the AGG is 4.5%) and the US Dollar has just surpassed the S&P 500 with an 8% gain vs 6.5% so far this year.
Meanwhile, the Global Dow is up less than half a percent this year. The Euro Stoxx 600 is up 2%, the Nikkei is down 3.6% and Hong Kong's Hang Seng is down 1%. The Australian All Ordinaries index has done nothing this year but Canada is up close to 9%.
As for EM, the Shanghai Composite (mainland China) is up almost 12% while Brazil is clinging to a 5% return. Mexico is up 4.6%. Trumping all of these would be India's Sensex, with a 25% return – which is balancing out the massive 25% losses in the Russian stock market this year. Overall, the MSCI EM index is off .5%.