People are starting to freak out a little.
A massive amount of individual stocks have dropped more than 20 percent from their 52-week highs this fall and this is beginning to dawn on folks. The bullshittiness of the S&P 500's year-to-date gain – driven by an ever-dwindling handful of gigantic darling stocks – is starting to lose relevance. The lack of participation by a growing number of stocks and sectors is all people want to talk about this week, despite the fact that the long-term trend for large caps is still intact.
For one glaring example of this, let's look at the rate of descent for the NYSE advancers vs decliners (large pane) and compare it with the price action in the S&P 500 index (top pane). As you can see, the cumulative total of net advancers on the NYSE is dropping rapidly while the S&P 500's price barely budges. We're within a few points from record high prices, but each day fewer stocks are playing along.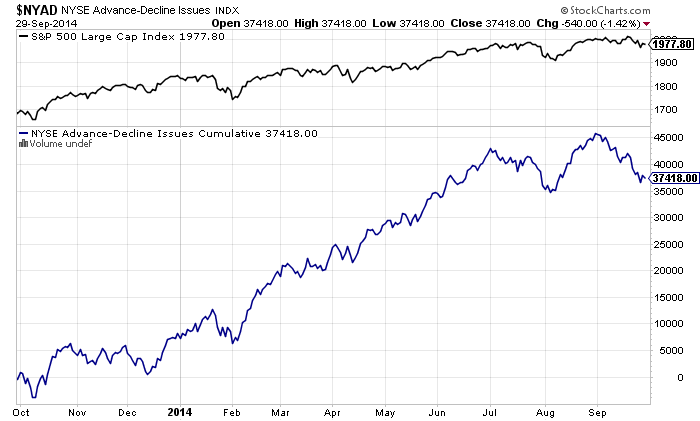 This can resolve itself to the upside, of course, it certainly did in February and August. But the longer this divergence persists, the more anxious people get – and with good reason.
But it's not quite panic. It's just concern, for now.
It's important to look at what real panic looks like as a reminder. It just so happens that today is the six-year anniversary of one of the most panicky days of all time. On September 29th, 2008, the Dow Jones Industrial Average recorded its largest one-day point loss of all time.
Let's take a trip back via the magic of my Googling skills…
CNBC: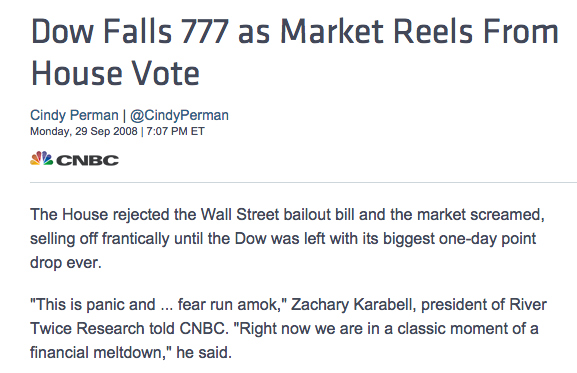 New York Times: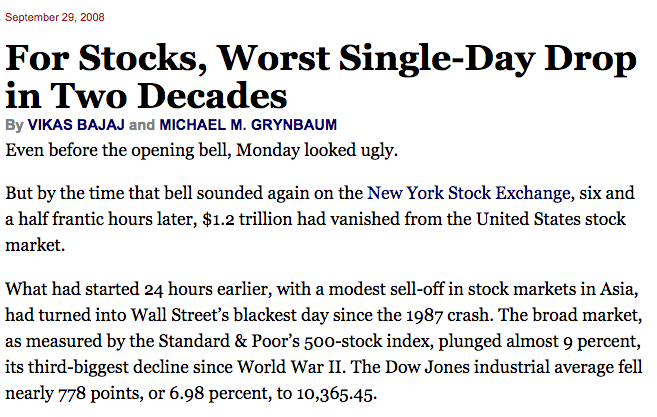 CNNMoney: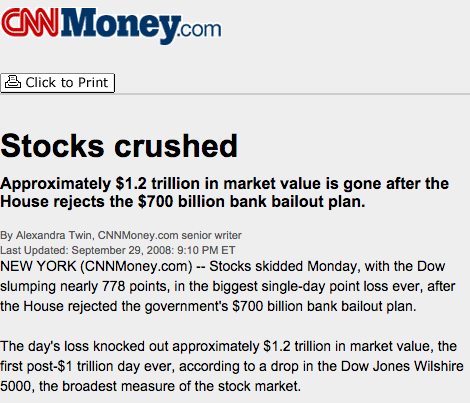 If you're new to the market or haven't been around through a period like the one chronicled above, you don't get to use the word "panic" and you damn well don't get to throw around the term "capitulation", which I actually heard someone on the air say today. Dude, you can't even spell "capitulation".
The recent deterioration we've seen in market internals absolutely has investors a bit on edge. But let's keep it in perspective.