via Joseph Ciolli at Bloomberg News:
Four of the five largest companies to list on U.S. exchanges plunged more than 17 percent in the year after going public, the CHART OF THE DAY shows. The exception, Visa Inc., soared 28 percent raising $19.7 billion in 2007. Alibaba, set to be the biggest IPO in U.S. history, has said it will raise as much as $21.8 billion when it prices the offering today.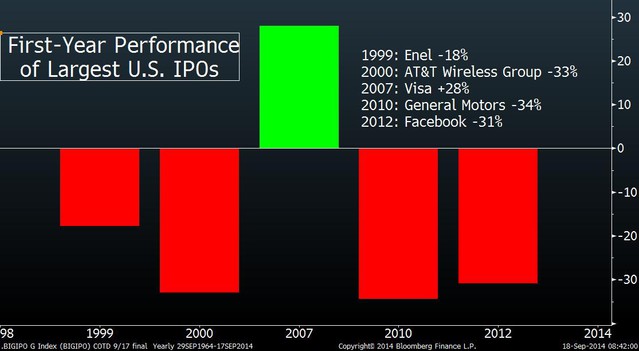 Josh here – there's no science to this, of course, but to me Alibaba is most similar to Visa. It's essentially a clearinghouse business for retailers and a payments processor at its core. It's a website, sure, but that doesn't make it similar to Facebook at all.
Facebook is a social media company with an advertising model. China's current Facebook is probably Tencent.
An interesting aside: The old "Facebook of China" was a company called Ren Ren, which trades now at $3 a share on the Nasdaq under the ticker symbol RENN. Ren Ren's popularity collapsed when web traffic shifted toward mobile, away from desktop, and they couldn't make the leap. The company loses money each quarter and has seen usage drop by more than 50%.
As for Alibaba, they're not even in the same ballpark, so the Facebook comparison makes no sense. If you ask me which of these corporate giants Alibaba looks most like, it's definitely Visa.